It has been too long since I have updated this blog! My life has been consumed by Miami Ad School and my new adventure in South Florida. So much has been happening that it has been hard to find time to construct a coherent blog post about what I've been up to, so this is my attempt to do just that. Some of my first impressions of this area were formed as I looked up toward the sky. Miami has some of the most consistently stunning skyscapes I have ever seen! I am almost afraid that I will start taking them for granted, because literally every evening heralds a sunset that I could sit and watch start to finish (if I had the time 😉 ). There is an awesome little dog park area right next to my building that is probably one of the best spots on Miami Beach to watch the sun set over the skyline. Here are some photos I took from there.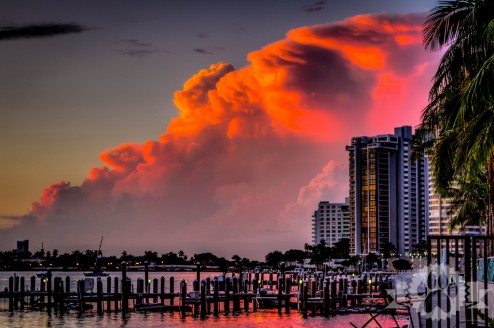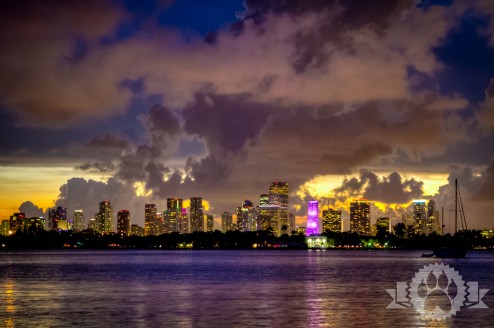 Here is a brief time-lapse from the same spot. Wasn't too happy at the turnout of this video, but I think you get the idea 🙂
There is much more to Miami than the sky, however. I have been enjoying getting to know Miami Beach mainly through the perspective of rocking around on my bike. Once you get on a bike,South Miami Beach becomes a really small neighborhood. It's quite enjoyable to fly past the art deco building lining every street, always overhearing conversations in every language except english.
My ride…
School is keeping me really busy, but the work is enjoyable. Most of the subject matter we are learning aligns with my own personal interests, so it sometimes results in a nice feeling of enjoying doing homework. Some of my favorite classes include Motion Graphics and Digital Photo Studio. Our first assignment in Motion was to create a "Kinetic Text" animation to go with a short audio clip. I chose to animate a scene from Trailer Park Boys, a canadian mock-umentary series about life in a trailer park that happens to be one of my favorite shows.
The final for this class was to choose a scene from a show or movie, and re-animate it using South Park style characters and movement. Low and behold! Guess what show I chose to work with?! I chose a particular scene that shows the good-hearted nature that is at the core of the Trailer Park Boys series, hidden somewhere beneath the profanity and dope references. I am fairly proud of the result of this project… Now I know what it takes to make South Park episodes! Hats off to those guys, did you know they make each episode in the 6 days between the airing of the previous one?! Insane.
Digital Studio challenged us with some cool projects as well. One of them was to design and print a brochure for a hotel here on South Beach. This assignment was hard for a number of reasons, but surprisingly one of the most challenging aspects was locking down a hotel that was willing to allow me full access in exchange for the photos I would produce. I ended up working with a hotel called The Betsy. It turned into a great arrangement, as everyone who worked there was incredibly helpful and psyched to have me. I even got a fancy cocktail and some other potential job opportunities out of the deal. Here is the view from the rooftop deck at the Betsy.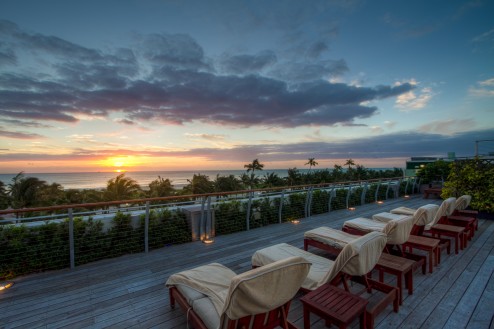 Another cool project for digital studio was an album jacket design. We had to find a musician of some kind, bring them into the studio for portraits and use those photos and our design skills to lay out a complete jewel case dressing. Lucky for me my friend Chris Collins was in town and was nice enough to let me use him as my guinea pig. Heres the cover of the album.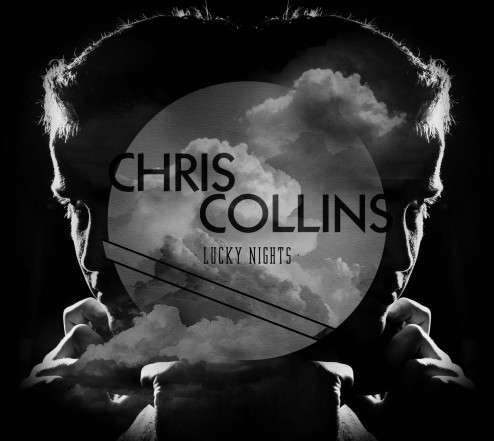 Although school dominates the majority of my life these days, I manage to find time to keep my sanity exploring Miami and looking for interesting experiences. One of the first thing I did when I stumbled across some free time was look into any cool urban exploration areas near the city. It turned out that there were a few that were fairly easy to find… in fact, this little website lists quite a few (careful with that information, could be misused in the wrong hands)! I set my sights on a spot called the Miami Marine Stadium. Little did I know, this building holds a plethora of interesting history, both traditional and sub-culture related.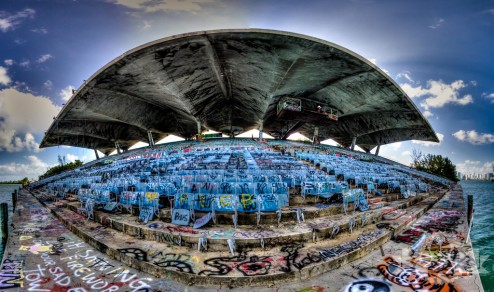 This is what Wikipedia has to say about the place.
The 6,566 seat stadium was built in 1963 on land donated for "water sports," and designed by architect Hilario Candela, then-a 28-year-old recent immigrant from Cuba. It was dedicated as the Ralph Munroe Marine Stadium opened, completed at a cost of around $2 million ($15.2 million, adjusted for current inflation). A speed boat racer, James Tapp, was killed on opening day. The venue, located just south of Downtown Miami, was revered for its scenic views of Downtown and Miami Beach, hosting motorboat events, and events featuring the likes of Mitch Miller, Sammy Davis, Jr., and U.S. President Richard Nixon

— Wikipedia
These days it is a revered destination for graffiti artists and skateboarders. In fact, it has become an increasingly robust DIY skate-spot with well-crafted cement obstacles of all kinds. Supporters of the building in its current state have teamed together to keep it clean and easily accessible for anyone who wishes to explore/skate it for themselves. It has also become a graffiti haven, though the life-span for pieces here is very short (things get painted over very often). It is still good, safe fun to paint there so I left my own mark not too long ago (probably already gone over by the time you're reading this).
Well, thats about that for this post. Just wanted to give you all an idea of what Miami has been like through my eyes. Though transitioning anywhere from New Orleans is going to be a difficult process, I am not blind to all of the great stuff Miami has to offer. It is downright gorgeous and I have been meeting awesome people through school and other outlets… Definitely worth a visit should you ever get the chance!
P.s. I just had some good wall fun in the name of Art Basel, and will be making a separate post about that experience, so stay tuned!