San Francisco has always been enveloped in a kind of exalted mysticism in my head. It isn't difficult to identify reasons why the city and its state hold this elevated status for me… From the skate videos I would watch in my adolescence, with all of my favorite skateboarders flying gracefully down handrails in the Golden State ere picturesque palm-laden backdrops, to all of the songs and my own personal Hippie phase a number of years back, there has always been a feeling that California is hallowed ground; The Promised Land. In younger years I felt a strong pull out west, which is the reason that my family eventually took a trip to California about a decade back to visit universities that I might want to apply to. This very trip ended up being the only 7 days I had ever been in the state before my recent extended stay. Eventually it became apparent that going to undergrad in California wasn't in the cards for me, and I ended up at Tulane in New Orleans; a turn of events that I could not be happier about… Yet, I still had not had a fair chance to experience and explore my self-assigned Shangri-la. For this reason, at the very outset of my enrollment in Miami Ad School, I was fairly determined to spend part of my time at their base school or internships in San Fran, and as it happened, I ended up spending my very last quarter of the program taking classes at the Miami Ad School San Francisco base school.
My adventure in San Francisco began with an awesome 3-day drive west from New Orleans, which my Dad joined me for. The trip started this odyssey out with a great tone; it was just me and the old man, driving through some amazing country, listening to Stuff You Should Know podcast (highly, highly reccomend this for any kind of extended travel), staying in motels and eating at whatever back-street establishments we could find. It felt great to spend this kind of time with my Dad, I know we both enjoyed the drive immensely. Eventually we made it to the Golden State, and I was immediately impressed with the lay of the land. I remember driving down through some hilly topography into the central valley: There were rolling green hummocks and rock faces dotted with houses and farms. Every once in a train engine would tug a graffiti covered line of box-cars through the sun-soaked scene, hugging the steep ridges as it made its way through the trees and buildings. I remember thinking it looked exactly like a model environment some aging railfan would create in his basement; hunched over in the dark manipulating his miniature locomotives with decided precision. I was already falling for California.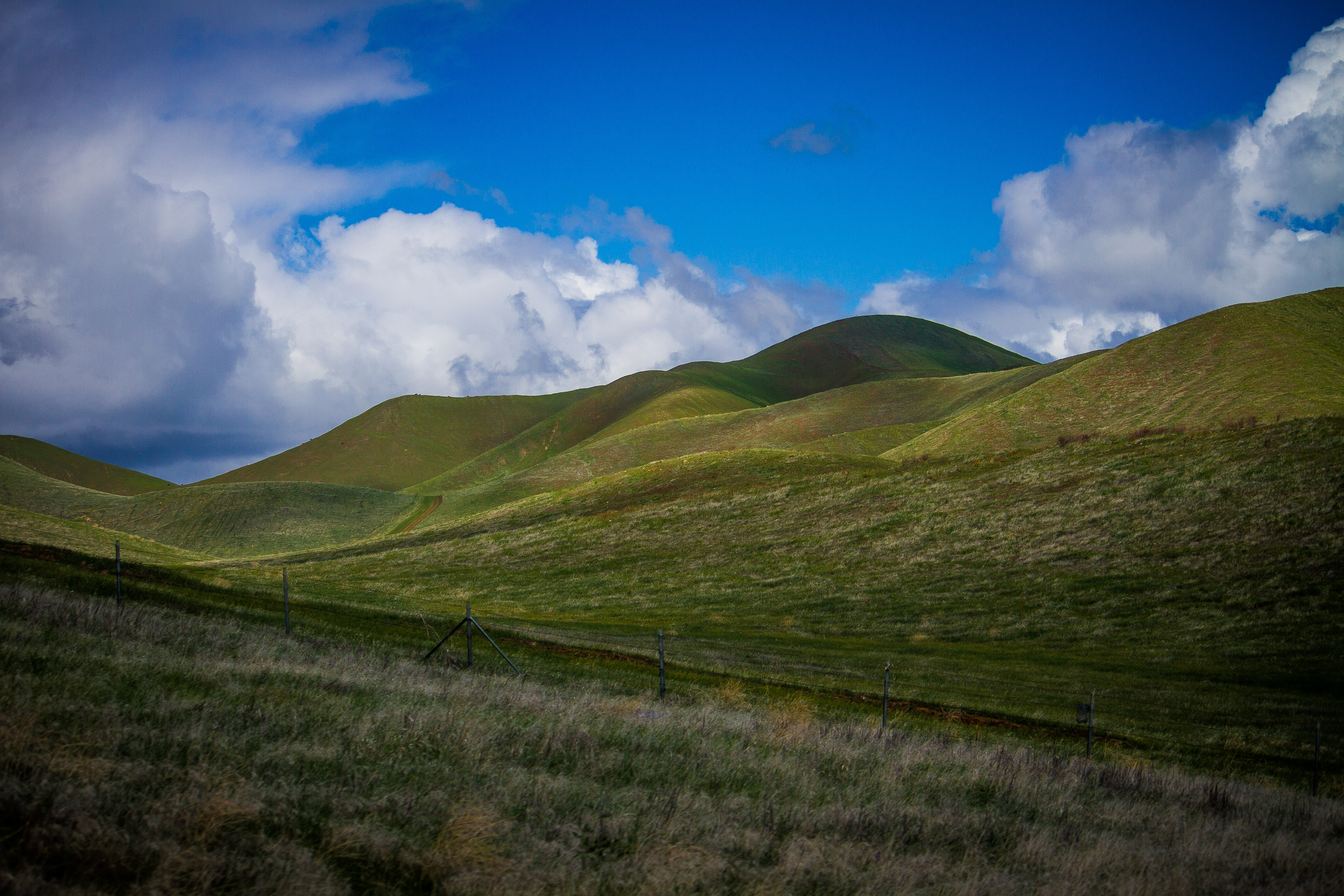 Eventually we made it to San Francisco, and I bid farewell to my Dad at the airport. I quickly moved into the room I had subletted in Daly City, just a few blocks south of San Francisco proper. I had only brought a couple suitcases, my computer and camera gear. My existence in San Francisco was going to be very basic; not much time spent at home, and no need for frills of any kind. I began this experience armed with a very positive attitude (I had just come from a very successful project at the Buku Music and Art Project in New Orleans and was riding that natural high) and thirst for adventure, but became deeply entrenched in my schedule in no time… Wake up, catch the 14 bus, transfer to the 49, get to school, work until class, class from 7-10, get the 49, back on the 14, home, sleep. I was in an absolute candy-land of urban exploration and new experiences, but was hyper-aware of the fact that I was about to finish school and didn't feel well prepared for it. I felt that my adventurous urges had to be suppressed in favor of a more productive M.O… The rigidity and repetition of my daily process quickly started to feel like a burden. I was spending nearly 3 hours on the bus each day, and felt like I couldn't think about anything but work during the hours that I was awake. I knew that this lifestyle was necessary right now, and would pay off later, and tried to focus on that. Still, it was tough to stay positive at times. I wasn't seeing progress in my work as rapidly as I would have liked to, and had no time to cook properly or exercise much. One thing that became very clear throughout this process is that this kind of lifestyle is extremely counter-productive for cultivating good creative work. You can sit down and try to bust your ass for as many hours of the day as you want, but unless you are relatively happy and in possession of healthy body and mind, you simply aren't going to be creating at you maximum capacity. There is nothing more true than the notion that good creative happens when you are having fun. As simple concept, but harder to put into practice than it sounds at times.
Once again, I began struggling with some pretty negative thought cycles by the halfway mark of my time in San Fran; a mindset that had become a bit too familiar for me over the last few quarters of the program. Small things would set me off in the morning or early afternoon, and it would just absolutely ruin my attitude for the rest of the day. People were beginning to notice, and it was affecting my group work and presentation skills. I was fully aware of the ridiculousness of the way I was thinking, acting and interacting with others, but was still struggling to recalibrate myself into a more positive mode. I didn't like the repetition of my lifestyle, hated that I was eating like shit and not exercising, and often fell into the trap of comparing my work to others. This last bit is a surefire way to ruin your productivity. It is a pitfall that I often notice young creatives like myself tumbling into, and should be broached with absolute caution. Exploring the work of other creatives in the world is an important part of our job. This is how design trends rise, how we set benchmarks for ourselves and is vital to creating something original and compelling. That being said, as soon as thoughts of comparison enter the picture, like "This is so much better than what I'm producing", or "Why can't I be that good", the exploration will no longer be productive. Every time I start thinking this way, the tone of thought instantly becomes negative, where it should instead be inspirational. In the ideal world we look at the work of others to be inspired in our own projects. Comparing your own work to someone else's is like trying to compare the events of your life to theirs… It's just completely impossible to quantify something like that; we all must forge our own path in our life and work. As we start to examine the path of another, we can take what we learned to alter our own trajectory, but I've found that trying to make that comparison is useless and detrimental. I suggest trying to avoid it! I nearly ruined my time in San Francisco by reflecting negatively on how I may have squandered my time at Miami Ad School, or at least not used it to its full potential. For this very reason, I will soon release an additional blog post featuring my reflections on the 2-year program as a whole, and how anyone considering attending MAS can hopefully avoid some of the traps I fell into.
Despite the way I am describing it so far, this period of time in San Fran was not all doom and gloom by any means. As I look back, I genuinely enjoyed being in the Bay. I felt that general attitude of the area – you know, that vibe that you can just feel while being somewhere – was very much akin to my own. Even the bus rides that I perceived as hiccups in my assigned schedule of productivity sometimes felt like their own mini-adventures. Man, there is always something interesting to see on the 14 Muni line. From flower-adorned ukulele-playing pixies to yellow-bearded street-lurkers in a full-on state of psychosis, there is always some point of minute interest to see on San Francisco public transport. During my time studying in the city I even managed to produce some work that I am genuinely proud of, despite all of my apparent efforts to prevent myself from doing so 🙂 This campaign in particular I think is far and away the best piece of advertising I produced throughout my whole time at Miami Ad School. It has been well received by my instructors and made it to Ads of The World's facebook page. I like it because it's simple… It communicates the benefit of using Ziploc products in a way that is easy to understand but still takes a second to "get". It was also really fun to hand-illustrate. Leftovers rule.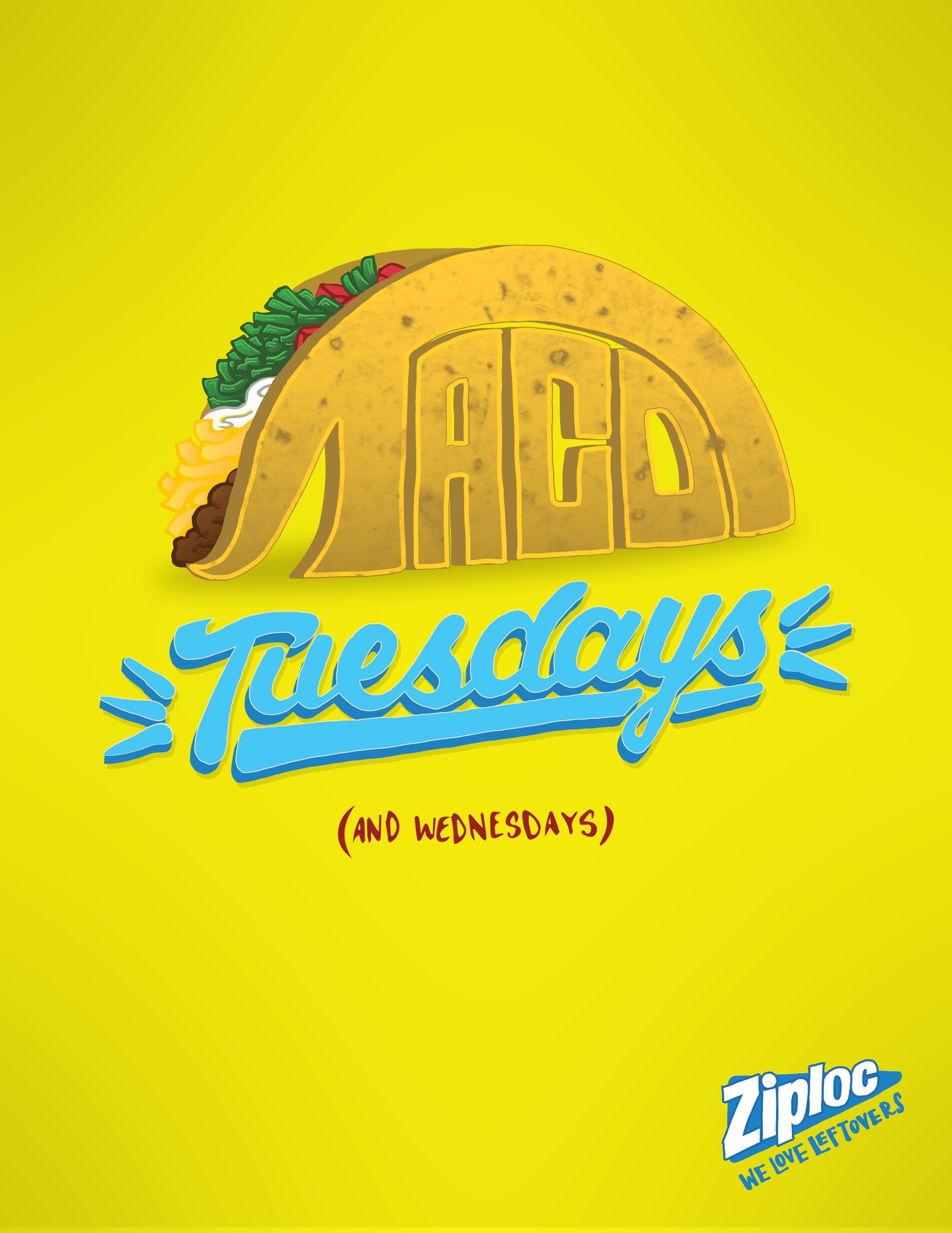 In spite of my entirely work-centric schedule, I was determined to find some time to engage and explore Bay Area and its culture. I wanted to be sure to do something memorable or interesting every week, so Friday's became set aside as my adventure day. In retrospect, I am pleased at the extent of the area I was able to explore on these cherished Friday trips. From nature jaunts to taco-killing missions, I definitely feel satisfied with the amount I was able to get around in San Fran and the surrounding geography. At this point I want to make a special shout out to Sophie Germer and her social circle at San Francisco Art Institute. I met Sophie via our shared interest in exploring the abundant abandonment of post-Katrina New Orleans. We got in touch when I arrived in San Francisco and for the following weeks Sophie and her friends introduced me to their lives in the Bay. From art shows, to bars, to restaurants and local aberrations, many of the best things I experienced in San Fran were kindly introduced to me by this awesome group of people, and I am thankful for that. Check Sophie's photos out, she is a very talented photographer. She was also kind enough to direct me to some of those places that have been consigned to oblivion, and stand in need of some decoration and life. I was happy to oblige.
I wanted to take a second to list some of my favorite Bay Area experiences below, should any of my readers find themselves there with a taste for adventure and some time to kill. Again, I feel I only scratched the surface when it comes to what this part of the country has to offer… But I suppose that something is better than nothing, right?
-Marin Headlands: I happened to make it over to the Marin Headlands within the first 24 hours of arriving in San Fran. It seems like a natural move, as I wanted to set my bearings with a nice view of the bridge, city and the rest of the bay. Turns out there are some really awesome abandoned bunkers from WW2 scattered throughout the area, still sitting intact. They are covered in graffiti and I enjoyed hiking from one to the next enjoying some incredible Pacific vistas.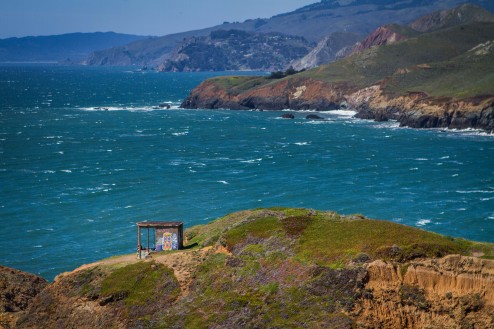 -Dolores Park: Easily one of the best places to relax with a beer outdoors in the whole city. The scene is impeccable; the park is packed full of afternoon revelers basking in the sunlight until the last sliver of golden rays bids farewell to the grassy hill. Get a coconut cocktail from the dude dragging that cooler around and enjoy the view.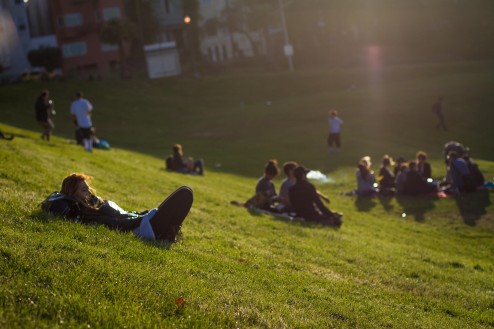 -Muir Woods: This National Monument is about the closest place to San Francisco to get a full dose of Redwood awesomeness. It's a quick 45 minute drive from the city and will fully satisfy any nature hankering you may find yourself with while in the Bay. Just one thing: if you see a banana slug, you have to lick it. Rule of the woods.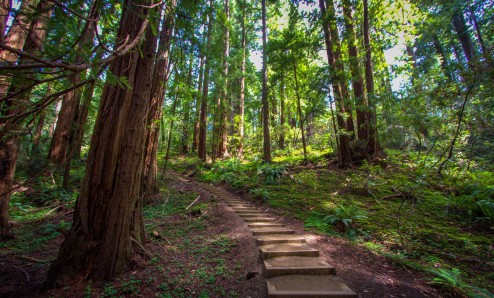 -Golden Gate Park: This one is pretty obvious, but I still feel like I should mention it. The park is 1,017 acres of pure amazingness. Other than being drop-dead gorgeous, it is full of some pretty awesome things to do. I didn't have as much time as I would have liked to explore the confines of the park, but what I did get to see was great. Take a whole day to explore this monstrosity of a public space, and maybe duck into the Academy of Sciences and the Conservatory of Flowers for some brain and eye candy.

-Bernal Heights: Probably my favorite view of the city. That is all.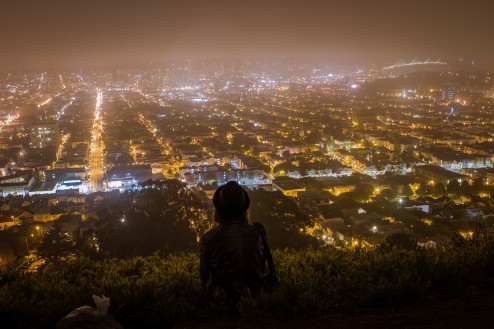 -Sutro Baths: These are the ruins of a massive privately owned swimming complex on the western coast of the city. Lots of interesting history here, and a really cool place to hang out. Great view of the pacific ocean ebbing and flowing around some rocky outcroppings called Seal Rocks. Worth the bus ride out there for sure.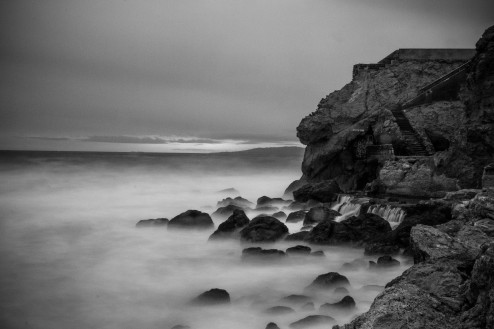 -First Fridays: Every first friday of the month, there is a large gallery walk in Oakland. You know what that means, lots of amazing food trucks and street vendors to check out as you amble in between the actual galleries hugging Telegraph Avenue. The street vendors sell some great art for insanely affordable prices. Little tip: Near the end of the night, everyone is just trying to clear their booths so the prices plummet like crazy.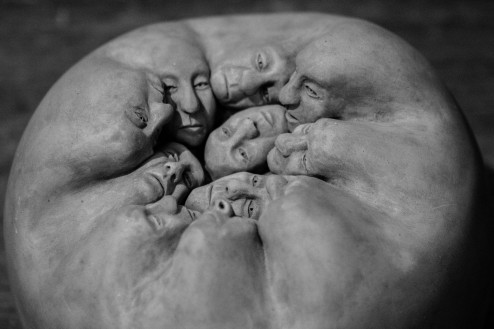 -The Albany Bulb: This is an interesting one. The Albany Bulb is this kind of un-incorporated urban purgatory zone of art and cement. A former landfill, it is now a huge recreational area with a large population of homeless inhabitants. Over time, people have created a constantly developing collection of folk/junk art scattered throughout the whole peninsula. Definitely a bit of a hike from San Francisco, but certainly an interesting place to take a walk.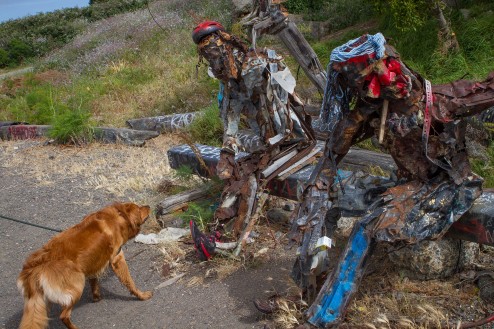 As always, I'll wrap this post up with a gallery of some of my visions of the Bay Area. I feel there was so much more for me to capture and participate in, but I guess that just gives me more of a reason to return to this awesome place 🙂