As I begin writing these words I am laying in the bed I slept in most of my childhood growing up in Chicago. I am currently at home in Oak Park for a few days after having left Miami after a year of school there, on the way to Amsterdam, where I will be starting the second year of my program at Miami Ad School. This past month or so has been a great example of those times in life in-between adventures and big plans; a time when reflecting on the recent past butts up against pondering what tomorrow will bring. I have come to love these rare moments in life… A moment to kick off your shoes, knowing that the time to strap them up and explore new ground is right around the corner.
My last few months in Miami definitely flew by, but despite this constant whir of life buzzing in my ears I can still pick out a few moments that will stick with me as I carry the memories of my Miami experience into the future. Generally, however, my affinity to the city of Miami itself grew exponentially this summer. My roommate and I had been forced to leave our old place of residence under some bullshit circumstances; but it totally worked out for the better, as we relocated to a cute little apartment only 2 blocks to the beach. This proximity to the ocean made all the difference. I was proud and appreciative to enjoy the luxury of being able to make it to the beach and look out over the water almost every day. My favorite workout became running up and down Lummis Park, and then finally jumping into the ocean just as I was about to expire from the summer heat. I was beginning to see lots of potential in this city.
Just like the rest of this past year, much of my time and energy the past few months was focused on school and freelance endeavors. I am generally excited and satisfied with my recent work, and enjoyed working with some awesome people at school per usual. Once again I thoroughly enjoyed a typography class entitled "Voice of Type" taught by Diego Guevara. The assignments were fun and there was a totally positive energy in the class that motivated everyone to do their best. Probably my favorite project from the class was this photographic typography assignment we were given while studying the great Stefan Sagmeister.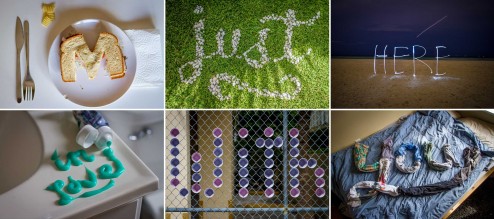 Another project that was interesting and a bit challenging was having to create movie title sequences for a book or movie of our choice. I would say film and motion graphics is one of my weaker skill-sets, so its always a learning experience to dive into those kind of assignments. I chose to animate a title sequence for the book series Harold and the Purple Crayon. If you're not familiar with the series, its basically about a little boy who travels to and is consumed by entire worlds that he draws with his purple crayon. I still have powerful memories of looking at these books at a very young age. Here is the piece I made introducing the story in its imagined movie adaptation.
Harold and the Purple Crayon | Faux Title Sequence from Maxwell Rasche on Vimeo.
My other coursework included a class devoted to creating interactive activations for brands, an interactive media production class focused on making games for mobile devices, and a pop-culture engineering class emphasizing the importance of staying on top of current trends and leveraging them to make better advertising. Although I am proud of the work I created in some of the more concept-based classes, it is clear to me that I have not yet mastered the process of creating good, engaging advertising. I still feel as though my strengths lie in design and aesthetics. My appreciation for people that create advertising that makes people laugh or actually feel something grows every day.
As I mentioned before, this quarter marked the end of my first year at Miami Ad School, and my last times spent kicking around and exploring Miami. Although I was sad to turn my back on South Florida and all of the wonderful faces I met there, the trickle of adrenaline when I pondered my upcoming stint in Amsterdam definitely helped with the coping process. I had a few great experiences at the very end of my stay in Miami, including discovering the club Treehouse, a deep-house bumping haven hidden away on South Beach, practically in my backyard. The moment I stepped foot in there I both cursed the fact that I hadn't found this place early in the year, and was joyous that at least I could have this one last awesome night out in an amazing venue. After dancing until the wee hours, I noticed a particularly interesting sunrise beginning to develop over the beach. I grabbed my equipment on a whim and ran out there to check it out. That morning I ended up getting some of my favorite shots of my entire time in Miami. Here are some below.
A few days later I drove North on I-95 up and out of the city, kicking off what turned out to be an awesome break. My first stop was the Farm (once again), where I was to take enormous 360 degree panoramic photos of different views in the area for Ron Seichreist, the owner of Miami Ad School. He wanted to use the images to wrap the inside of an old Airstream trailer that was being converted into a mobile classroom; to the effect that it would seem like you're stepping into the scene when you entered it. I just recently found out that the inside wrap probably won't be happening due to some immediate needs for the trailer to be ready for action, but that they may use one of the panos to transform a bathroom in one of the guest houses at the Farm. Either way, it was an awesome way to start the break.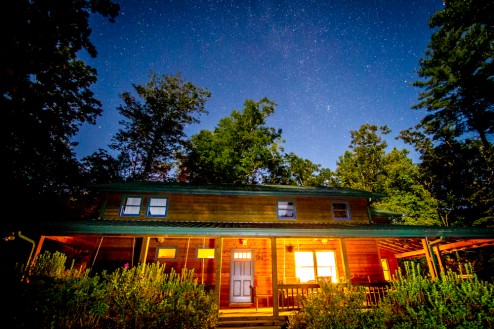 From there I was off to South Carolina to meet my family for a relaxing few days on the beach. It was definitely fun to enjoy and learn a little more about that region. We were lucky enough to see a ton of wildlife, including the highest concentration of dolphin sightings I have ever experienced. There was also some crazy weather, most notably a storm that rolled through that left the sky a crazy purple hue as the sun went down.
After just hanging out for a few days, It was off to New Orleans to see my girlfriend and the rest of my people in the dirty. It pretty much goes without saying that I had a blast hanging out there for a week. I was able to spend some quality time with the ladyfriend and also fit in some fun extra curricular activities. The homies at Winter Circle Productions brought Gramatik through on his tour for a Bassik party. I was excited when they asked if I wanted to photograph it because it had been over a year since I had photographed a show at the republic. Man I had a great time at that show… It really takes leaving somewhere to make you fully appreciate it. That night was a nice blast from the not-too-distant past of my days living in that awesome city.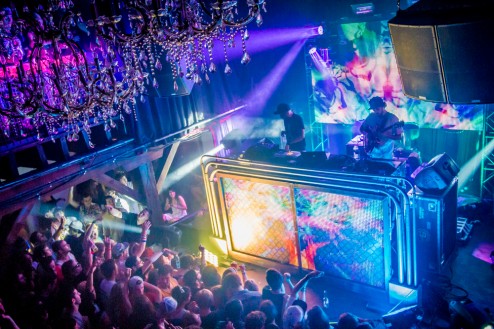 I also had time to meet up with some friends and get up to the mischief we love to do best. I had been wanting to paint another train car with my friend PRIEST so we planned something cool when I came back through town. I guess we were definitely in a Fall state of mind, because we decided to do a Halloween themed piece with zombie stencil fills. I was excited with the turn out, and the method of using a stencil in my fill worked out better than I had thought it would. Definitely hope it makes some people smile on its rounds throughout the continent.
After saying another goodbye to the girl and city I love most, I drove back up to Chicago, and a few days later flew over to Amsterdam, where I will be spending the next few months interning and taking classes at various ad agencies to start off the 2nd year of my school program. I am finally finishing this post from the couch in my flat, after leaving it unfinished for a few days in all the travel mayhem. I just wrapped up my first weekend in the city; all of the school business will begin tomorrow. I am feeling thankful for everyone supporting me from afar, and am excited to see how my time in this awesome city will play out. Stay tuned for words and images from my time abroad and thanks to whoever is out there reading!