The ebb and flow of work and result can be a frustrating phenomenon. There are periods of time where it seems like multiple projects are concluding all at once, allowing me to bask in the warm arms of well-being; feeling like I'm actually accomplishing something with my life. As a result I'll find myself with a steady stream of digital content that I can shove through my social feeds to till some audience interaction; fishing for likes and comments that act as little upticks for my self-worth meter. Other times I'm dwelling in what feels like a Long Valley, where it seems like it has been forever since I've said or done anything interesting enough to share, and there is no sign of the next windfall of finished projects and cozy satisfaction.
Living valley to peak like that has become a bit exhausting. It's easy to forget about all of the modest pleasantries that help fill up life when focused too much on the macro. I've challenged myself to turn a blind eye to that looming apex in the distance; and to instead give extra care and attention to every detail of the terrain in front of me… To truly understand the magic of an ordinary day, and how all of the minutia in our lives amalgamates wonderfully into meaning and emotion; into a life well lived… or not. The breeze meandering gently across my skin at this moment, the fresh tomato in my sandwich today, the words of admiration exchanged with a client or friend; the peaks are meaningless and unreachable without these foot holds. Moving forward, I aim to appreciate every new stride on this cordillera just a little bit more than I did the last.
To (try to) avoid being long-winded, I'd love to take you briefly through some of the recent products that have resulted from those countless days of slowly tromping forward. Looking back from where I stand, those summits of excitement are far more obvious and digestible than when I was walking toward them. Spanning the spectrum from work to pleasure, I feel fortunate as I survey the landscape of my life in the last 5 or 6 months.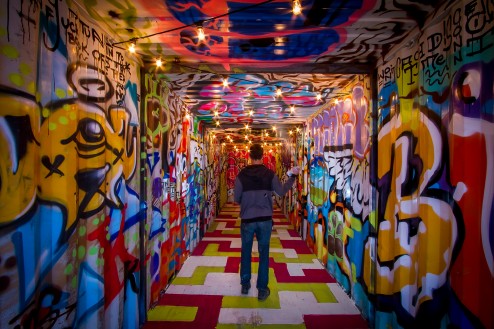 Work Stuff
Buku Music and Art Project
This past March, For the 4th consecutive year, I took my post as the curator/organizer for the Live Gallery at the Buku Music and Art Project. It has been really something to see this event, and even just the Live Gallery installation, evolve from its humble beginnings. Every year it gets smoother, easier and more impactful.
This year I was able to select 17 of my favorite New Orleans graffiti writers and street artists to create a diverse and all encompassing experience of aerosol art for the festival's attendees. One of the most fun and challenging parts of putting together a roster for an installation like this is choosing a diverse mix of styles to create an eclectic, yet complete, look at street art in our city. Ideally everyone from letter-head street bombers, to character lovers, to freight train writers, to every weird corner of graffiti stylings you could think of would be represented. I can honestly say that this past year was a successful representation of all of the above.
Once again the most rewarding part of the Live Gallery was raising funds for local non-profits. This year we donated a total of $2,600 to Upbeat Academy (an after school program that teaches music production skills to at-risk youth) and the Parisite Skatepark, a grassroots DIY skatepark that has recently won favor with the City of New Orleans (which I will expound upon in the next section). Fun with a purpose; thats how I like it.
Buku has a way of taking it out of me… It requires a profuse amount of attention and energy that can be absolutely exhausting at times, but around the middle of the second day, when the wall starts to really take form, I take in this view and know that it's all worth it.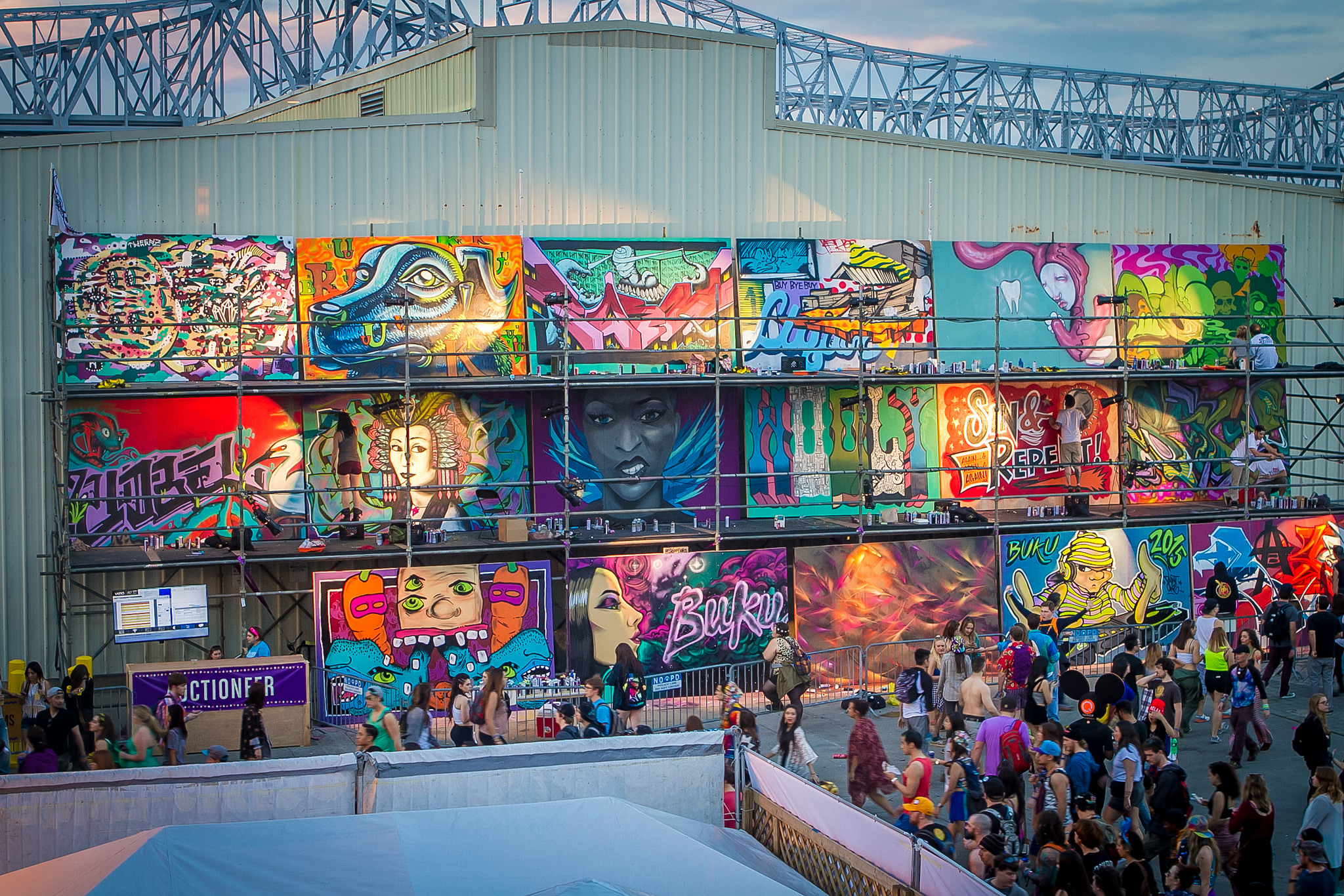 Individual shots of the pieces:
Kickstarting Parisite Skatepark
In another work(ish)-related adventure, New Orleans first public skatepark rose from the ground this past spring with the help of a rag-tag team of dedicated skaters and a generous portion of the public at large. In order to fund the birth and secure the future for this park, a core group of enthusiasts, lead by friend, artist, and social maven(?) Skylar Fein, created a Kickstarter to fund-raise this much needed asset for the city of New Orleans. I was recruited to help with the crucial social campaign to support and drive traffic to the Kickstarter page.
This story has roots that extend a long ways past the Kickstarter era of the park. What started as a grass-roots DIY skatepark on an empty slab of concrete near the train tracks became a story of perseverance and the creation of actual change in the face of slow-city politics and bureaucracy. Without trailing on to long, here's how the Parisite became what it is today: Group of skaters build DIY park on railroad property that lasts for a year or two until the railroad bulldozes it. Skaters move a few yards away under an overpass and begin building again. City steps in and threatens to bulldoze skatepark again, but skaters won't stand for it. Skaters begin going through the necessary routes to legitimize skatepark and, instead of being eschewed by city officials, are met with helpful and encouraging souls. Skatepark is legalized, now we have to fund it.
Building the social campaign for the park's Kickstarter page was an awesome experience. A great supporting campaign is vital for a crowd-funding effort… It's really become its own genre of advertising/marketing endeavor, and I felt like I learned a lot of really helpful skills should I ever need to crowd source funds for another project. If it hasn't been totally obvious up to this point, the campaign was a success, and we met the Kickstarter goal with flying colors due to attractive branding for the park/campaign, high-quality photo and video content, an air-tight social calendar and strategy, and the tireless work of many skate enthusiasts mixed with an incredibly generous foundation of supporters both local and nation-wide. At an all-to-appropriate grand-opening of the park, Mayor Mitch Landrieu engaged in the first ever celebratory "Reuben Cutting" to usher in a brand new era for New Orleans skaters… Oh yea, and you can bet we friggin' launched over it 🙂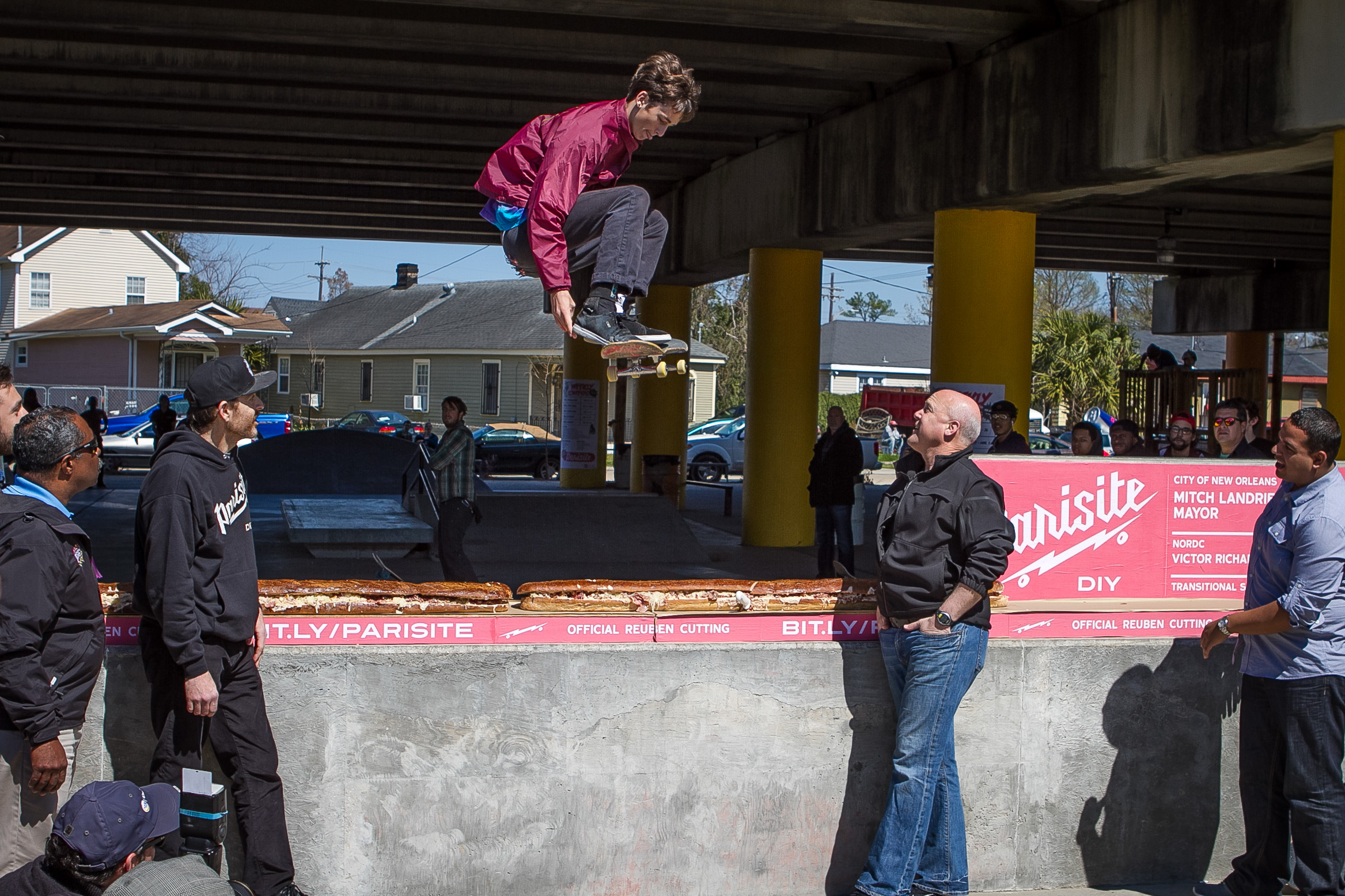 The New Orleans Boulder Lounge
As a designer, there's nothing better than seeing your work come to life in a significant way… To give a face and outward meaning to someone's passion is my own passion, and the reason I do the things I do. The cherry on top of this whole equation is when the work you've done for someone benefits both that person and yourself in a visible way, which is what providentially happened when I was hired to brand New Orleans' only climbing gym, the New Orleans Boulder Lounge.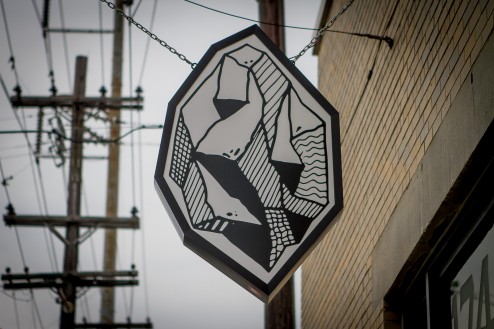 Post-Katrina New Orleans has been somewhat devoid of many alternative exercise and interest destinations you might find in many similar sized cities. Climbing and bouldering apparently has a huge fan base in this area and virtually no place within a reasonable distance to practice that hobby. Enter Eli Klarmin, an old Tulane buddy of mine, and his cohorts; creators of New Orleans Boulder Lounge. It's a bouldering gym and, you guessed it, lounge, situated in the Warehouse District of New Orleans in a historic brick storehouse. They were quick to fill the climbing vacuum in post-Katrina New Orleans and enlisted me to help build a brand around their passion.
The project went about as ideally as possible. The scope was large, but the client's passion for what they were doing infected my workflow and I genuinely enjoyed preparing work to show these guys for review and discussion. I learned something really important about creative work while engaging in this project: A good client can catapult the quality of a creative's work far past what that person could have accomplished on their own. Clients have the ability and prerogative to guide a project just as much as the creative does, so when their eye and conceptual reasoning are on point, it is a huge asset. With their feedback, Eli and friends shaped my work into a direction that they loved and that I probably couldn't have come to on my own. I am truly proud of what came from our collaboration and I know that they are too. The brand has been incredibly well received and has already garnered me a few more exciting projects… I couldn't be more thankful that this project came my way and ended up being an incredibly rewarding one. Check out my full branding case study for NOBL, and otherwise enjoy this time-lapse of the mural I painted inside the gym!
New Orleans Boulder Lounge Mural from Maxwell Rasche on Vimeo.
GumboLive
Life within the comfortable rhythm of GumboLive has also been going swimmingly. I feel grateful everyday that an opportunity like this one crossed my path. GumboLive is a great anchor for my professional life, and offers benefits and challenges that compliment my side work extremely well. The variety and conceptual nature of work here at the think tank keep things fresh and interesting. Here at Gumbo I can think blue-sky, and not worry too much about the logistics of actually making a campaign or activation happen; which is a counterpoint to my freelance endeavors where I am responsible for the advancement of a project from start to finish. The tempo of our projects provides both the satisfying moments of coming out on top of an action-packed week, and lighter instances full of reflection and proactive scheming for what's next.
Additionally, there are always engaging side projects that come up at the GumboLive office. The Gumbo bosses here is very supportive of our interests and are always looking for opportunities to utilize them to make our office or day-to-day more fun and interesting. They ended up giving me the whole wall of a large room in the office and basically asked me to do whatever I wanted with it. I decided to a stylized illustration of the GumboLive office and surrounding features. I'm sure most readers know about the BenchCastle Instagram account that was born of my love of freight trains and the impeccable views afforded from our workspace. I had a great time painting a dreamy version of the "Bench Castle" with GumboLive perched on top, freight trains passing below, and a giant steamboat chugging along the Mississippi river emitting hazy purple clouds. Needless to say, this is the kind of office improvement that I do not mind doing one bit!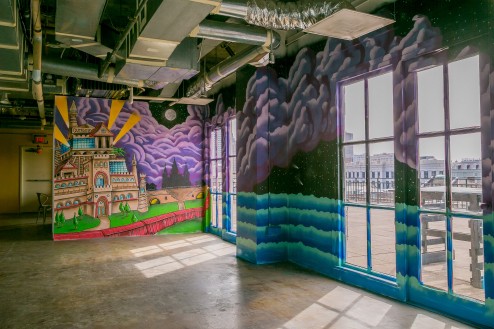 Deltaphonic Album Cover
While working with the Boulder Lounge guys, I met one of the founders, Andrew, who is in a self-described "hill country disco with funkysextrashcan tone= outlaw funk" band. They call themselves Deltaphonic, and they have a great sound that is 1000% worth checking out. Andrew asked if I'd be willing to help them with an album cover photo shoot that they had planned… They wanted to light an old, graffito-ed car on fire in the country and take photos with it. I was happy to provide the graffiti portion of the project, so I found myself driving into rural Mississippi on an overcast day in May ready to fulfill my inner pyromaniac. The photo-shoot ended up being an amusing day full of drinks, free-style spraypaint and fire. I think the album artwork ended up looking pretty dope so go check it on their facebook page at the link above!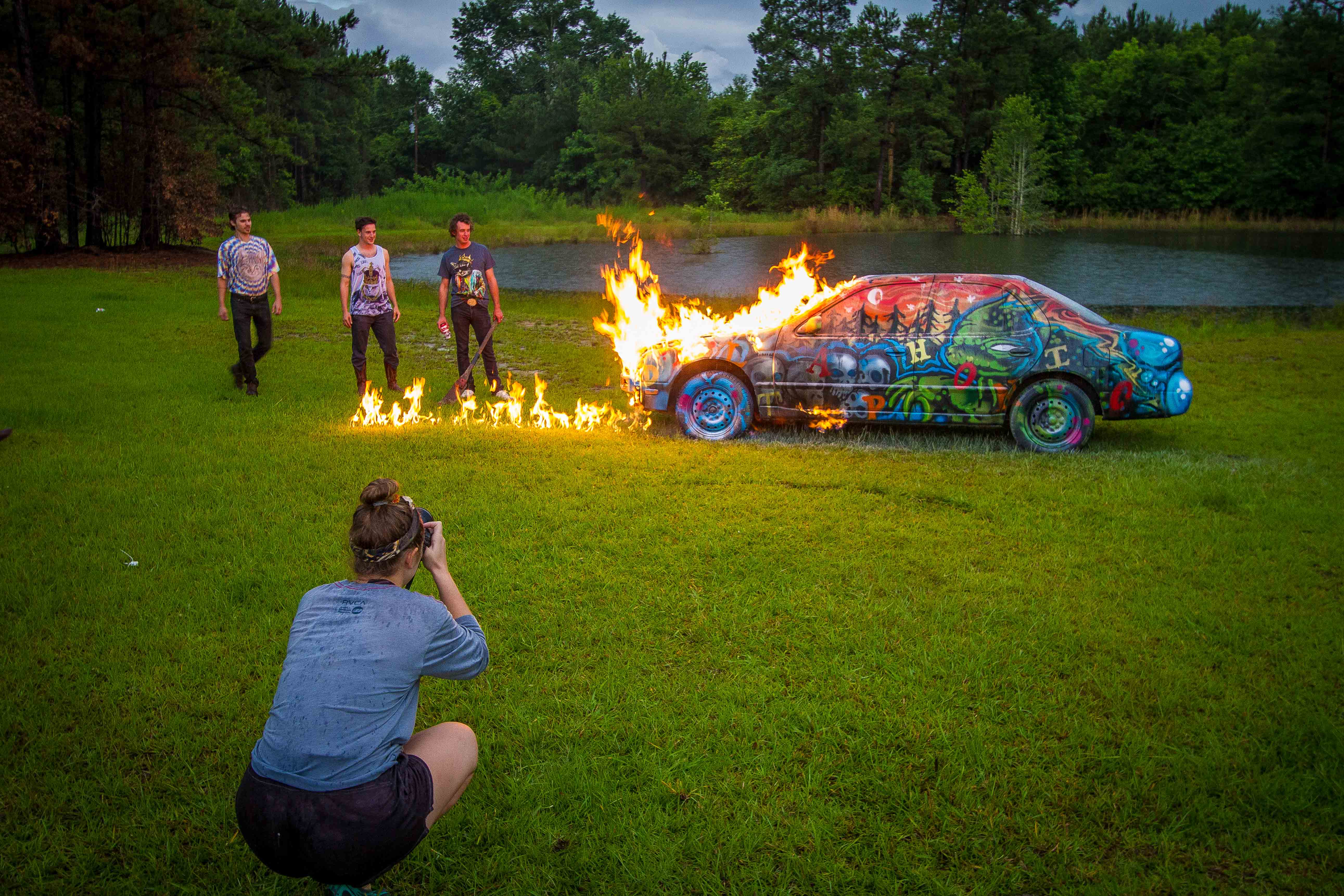 Gettin' Around
In spite of work and the day-to-day regimen, there is always that little bit of spare time clinking around in the proverbial pocket, which is best used exploring this massively tiny planet. I've been able to scrounge up a few really fun adventures over the past 6 months that, despite not being epic month-long excursions far beyond my comfort zone's boundaries, have left me with some great memories and warm pangs of satisfaction.
Earlier this year I had the chance to drive a few hours north to the historic, Mississippi River adjacent town of Natchez MS. A friend of Addie and myself, Allie, grew up there and recently planned to move to Colorado, so we took advantage of a weekend to drive up, do some exploring, and visit with Allie before her move. Natchez definitely left an immediate impression on me… I've written before about places that inspire a feeling of history and emotion instantaneously upon a visitor, and Natchez definitely fit into that category. Driving its winding roads we would pass historical homes, churches and cemeteries that spoke to us in languages of the Old South. We toured the town and hung out for a day and a half, drinking cocktails in 18th century buildings, and having tasty brunches in the historic "Under the Hill" area of the city; right on the banks of the Mississippi. When it was time to go, we decided to drive a bit further north and visit the ruins of the Windsor Estate… 23 massive Corinthian columns standing true in the middle of nowhere Mississippi. The Windsor Estate was the largest Greek Revival mansion ever built in the state. The structure met its fate succumbing to a fire in 1890, after a colorful history which included being used as a Confederate outpost and signal station during the civil war. There is nothing I love more than visiting places like the Windsor Ruins, places that tell ancient stories that I can never hope to truly understand. I was happy to add this one to the list and recommend it to anyone who finds themselves in the area… We also got to drive on the scenic Natchez Trace Parkway to get to the site, which in itself was a bonus.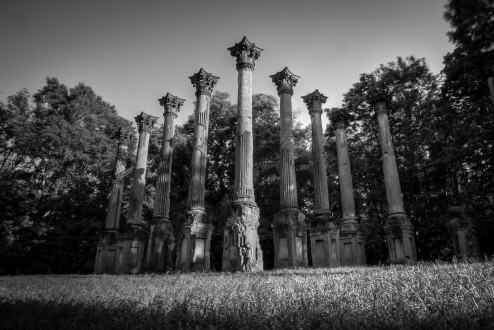 Smack dab in the middle of May, Addie and I embarked on what would be our most tropical adventure of recent times to the colorful paradise that is Puerto Rico. My better half had purchased some plane tickets for us as a Christmas present, and I had been very excited for the trip ever since. Having thouroughly explored all kinds of travel books and the interwebs, we crafted a plan that would put us in San Juan for a few days, before taking off to Vieques for another short jaunt. I was admittedly a bit worried about the logistical side of things; we had flights to catch, cars to reserve, scooters to rent, and a bit of a tight schedule to work within. Of course, everything turned out fine, and truth be told, I was ecstatic at the amount of adventure we were able to pack into a 5 day trip.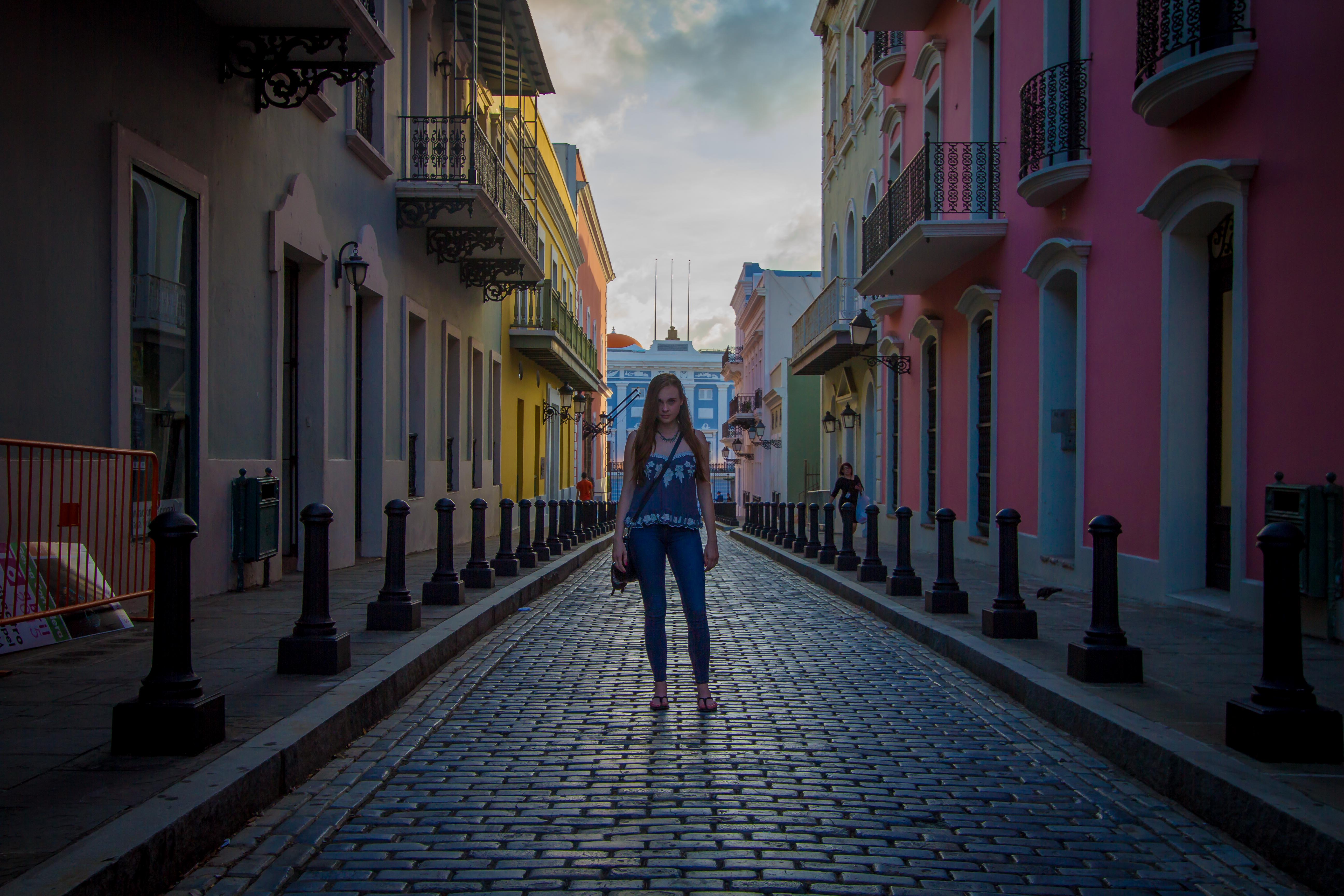 We spent the first couple of days exploring the Old San Juan area, taking in the vibrant architecture and some delicious mofungo, a savory local treat. We visited one of the historical forts on the peninsula, Castillo San Felipe del Morro, which boasted fabulous views of the sunset as well as a tragically beautiful cemetery directly adjacent to the fortification. We spoiled ourselves with incredible food and drink; our favorite dinner spot was a vegetarian joint called Mesa Verde that brandished the killer combination of atmosphere, cocktails and affordability. We even got a nice little taste of the local nightlife barhopping with a Miami Ad School Colleague of mine, Giancarlo. The next day we would end up heading west with Giancarlo to visit his hometown of Manati. To my absolute delight, he lead us to truly one of the most special beaches I've ever seen. Playa Mar Chiquita is a picturesque, crescent shaped beach that is protected by two huge rocky outcroppings to create a calm and clear haven from the rough sea only meters away. In addition, the entire beach area is surrounded by six foot cinderblock walls that are begging to be painted. Honestly I think it was the closest I've ever been to touching true Paradise… Sipping on pina coladas purchased from a shack in the middle of the beach, I painted a quick, beach-themed piece as we watched the sun set and the tiki torches begin to be lit ablaze. Perfect doesn't do it justice, its just one of those places I wish I could go everyday.
The next day we set off for Vieques, an Island-municipality to the east of Puerto Rico that is only about 10 minutes away by small aircraft or ferry. Again, the word paradise is the only descriptor coming to mind when trying to communicate the all-out radness of this place. We spent a couple of days and a night on the island; enjoying lobster and cocktails, exploring the whole island (and nearly getting lost in the rainforest) by scooter, and kayaking in absolute awe above the fiercely bio-luminescent Mosquito Bay. The experience of this place is something that is worth a spot on anyone's bucket list; and if one does not have a bucket list, it is worth the creation of one just to put Mosquito Bay on it. It's the brightest case of this kind of bioluminescence on the planet. Dinoflagellates are pushed into the bay by the tide, but because of the shape and shallow depth of the inlet from the ocean, they are basically trapped there in a high concentration. When agitated, these microscopic champions of light emit a cool blue glow… Dip your hand in their midst and you'll witness the birth and death of tiny galaxies sliding down your arm. Watch as manta rays swim below your clear-bottom kayak, surrounded in an an aura of blue light and leaving a glimmering trail in their wake. Look up at the starriest sky you've ever seen on this moonless night, and then marvel at the mirrored universe that is glowing and fading every second beneath the surface of the water. It's like entering the movie Avatar, I shit you not. We went with Jak Watersports for our bio-bay tour, and had a fabulous experience. Basking in the afterglow of our entire Vieques experience, we headed back to the mainland for our last night in PR. A few more cocktails, moments spent walking through Old San Juan, and a beautiful sunset later, we were headed back to New Orleans fully satisfied with everything we'd packed into that Puerto Rican Odyssey. There is definitely something to be said for traveling somewhere with no plans and letting the experience guide itself… But this vacation was a testament to how some careful planning in the lead time can yield an action-packed and entirely memorable experience.
Wanderlust is a common symptom of summer months spent in the bayou. Social feeds packed full of friends' beautiful moments spent reveling in their city's peak season; we in the Crescent city are forced inside (or into water) by summer's swampy southern heat. With our outdoor environment transformed almost literally into a palpable pot of hot soup, our minds tend to travel to more temperate settings. Fortunately, just as the summer months were starting to set in, I was able to seek refuge in the place of my birth on a few short jaunts up to Chicago for family and friend related imperatives. Namely, I needed to go through my childhood belongings and decide what should be kept and what was destined for the waste bin as my parents prepared to move for their new adventure in Santa Fe. I also was able to attend the bachelor party and wedding of two longtime friends of mine, Sean McKay and Veronica Schubow (2 incredibly special people I must mention). After a rowdy bachelor party at a house on Lake Delton, a beautiful ceremony and reception, a concert under the summer sky, drinks on the porch we had gathered on for years, and countless moments with people I've loved all my life, I was going to bed in the room where I had developed as a person for the last time ever. Needless to say, it was a bit emotional, but by now I have learned that leaving a place does not mean leaving the memories and emotions you felt in it or as a result of it. You get to have those forever, plus the brand new ones that will come after it. Chicago: This is not the last you'll see of me. Just because the house I grew up in is now harboring the next young family doesn't mean I don't have a home there. In fact, now I probably have even more places to call home for my visits, as I'll be hitting up my sister and friends for a place to crash on any forthcoming visits. Hope y'all are ready for me!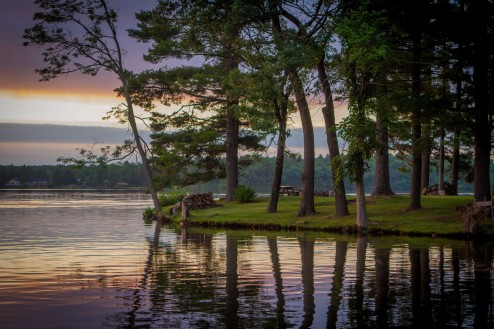 Throughout the next couple of months, I was able to engage in enough mini-adventures/weekend trips to keep the summer cabin-fever at bay. In July, Addie and I took the quick 3 hour drive east to Pensacola to get our yearning toes in the sand for a weekend. We had a fabulous time there… Partially thanks to a couple of friends who hosted us at the awesome restaurants and bars they work in. During the days we headed out to Fort Pickens, probably one of the best-kept secrets on the Gulf Coast. There's a civil war ruin there that was awesome to explore, but best of all were the tucked-away beaches that the national park area boasted. There were very few people, pristine waters and even some wildlife to check out. We watched storms blow in down the coast and enjoyed some IPAs under the hot sun… Not a bad way to spend a southern summer weekend. The cherry on top of this weekend for me was the hotel that we stayed in: Crowne Plaza Pensacola Grand is a hotel which features a lobby that was once an L&R Passenger Rail Depot. Very cool and traditional-looking in there. When we reached our room I was ecstatic to see that our view overlooked a very unusual rail crossing that intersected with 2 main streets below. I was able to watch a few trains pass that weekend and seamlessly kept my BenchCastle feed nice and fresh with some overhead shots of the cars and their graffiti.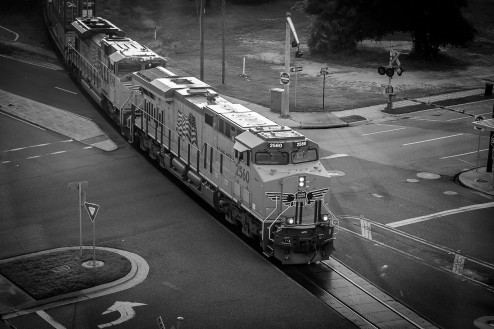 A few weeks later, Addie and I headed to North Carolina to the High Hampton Inn and Country Club, a place that her family had frequented a few times a year for decades. Beautiful rustic lounges and cabins overlook Rock and Chimney Top Mountains, reflecting beautifully in the adjacent mirror-like mountain lake. We had a fabulous weekend full of hiking the nearby mountains, swimming in the lake, enjoying the exorbitant buffet and singing karaoke unapologetically in the downstairs lounge. This little adventure once again verified my love for this part of the United States. The rolling green mountains, the lazy morning fog and the picturesque lake-side views are pretty irresistible assets for this region. I am excited to visit even more as Addie's family is nearing completion of an awesome mountain/lake home in nearby Cashiers. I was grateful for their hospitality and for including me in such a special family tradition.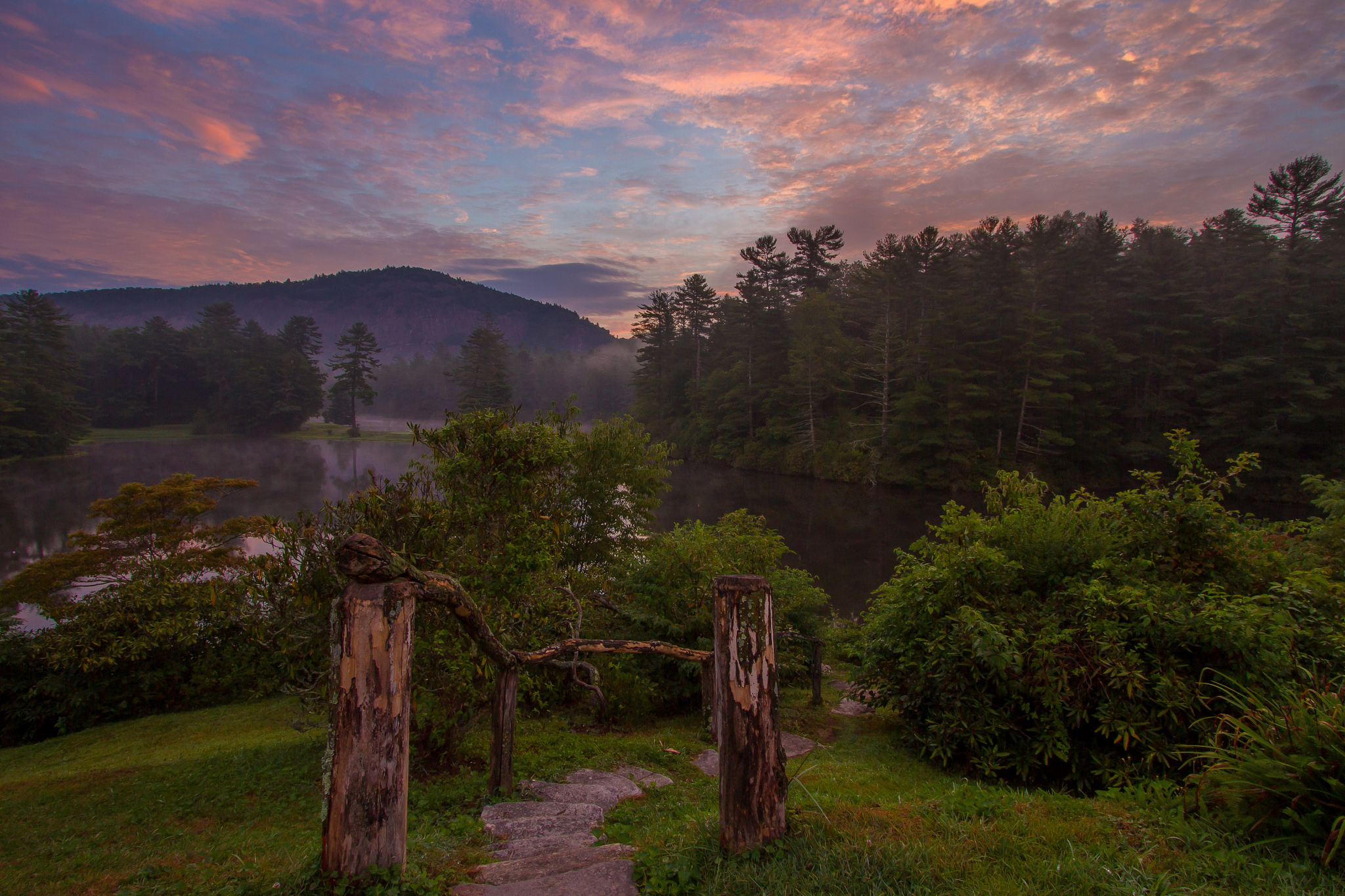 Well. I think this is as good of a place to leave you as any. I apoloigize for the length of this post, I have been sleeping on updating this blog and life began to pile up on me (as it tends to do). I'll be sure to update more frequently to keep these posts at a digestible size. Thanks again for reading, and I hope there were some tidbits in here that materialized as meaning in your own life. Once again, here are some sights from the past chapter of my life. I wish you a happy Autumn and upcoming holiday season!