Recently, I was lucky enough to be invited to the owners' of Miami Ad School's Farm, nestled in the Smokey Mountains near Clayton, Georgia. The "Farm Trip" is a bit of a tradition at the Miami Ad School: South Beach location. It is advertised as an opportunity to clear one's neural pathways of the gooey, resinous buildup that is a result of being on South Beach for an extended chunk of time… There really is nothing like that fresh mountain air to clear out the head and recalibrate your point of view back to a positive, functional state. I had been awaiting this opportunity to spend some time in what is one of my favorite regions of the US, and this quarter my schedule/workload finally allowed some time for a nature jaunt.
The Seichrist's land is located near the border of Northern Georgia and North Carolina; on the trip we would hop these state lines a few times on a daily basis. The area itself is home to some truly fascinating, and sometimes terrifying, history of our dear United States. This region was initially referred to as the Dividings, because it sat at the intersection of 3 important Cherokee Trails. Early in our Nation's development, there were many tribes of Native Americans living prosperous lives in the south-eastern part of the country. White Americans, innately unable to leave people who differ from them alone, began a process of cultural assimilation. Eventually this lead to something called the Trail of Tears, which I am sure that many of you readers are familiar with. If not, I suggest some further research for a look into an early installment of the absolute atrocities that litter our history from the beginning of our country to this very day. In short, the US government forced these native inhabitants to walk from their ancient homelands to Indian reservations in the western United States. As a result of this, many of them died, and I am sure that all of them felt extremely violated. Go United States! 🙁 Also of note, the movie Deliverance was filmed minutes away from The Seichrists' land. To sum it up, shit has gone down here in the past.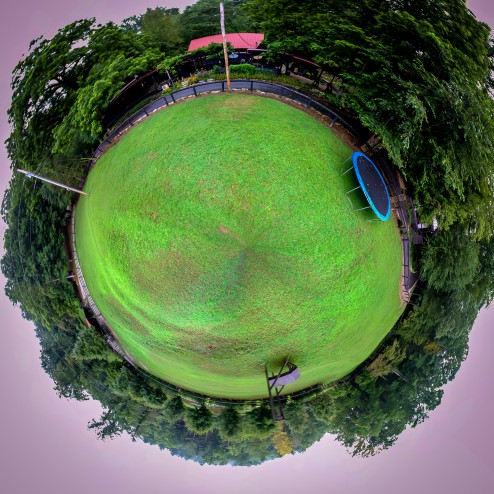 Ron and Pippa Seichrist bought the farm very shortly after they had married. They were living in Atlanta at the time, and each weekend would travel to destinations within 2 hours from the city to try to find a suitable place for a country getaway home. Eventually they landed on this area, just up the hills from Clayton, GA. I don't blame them one bit! The land is truly amazing around their property.
They have also poured quite a bit of time and work into making the farm a wonderful haven of escape and fun. In addition to the original farmhouse that they restored by hand they've added numerous new buildings, including guest houses, playhouses, a woodshop for Ron, and a pottery shop for Pippa. Ron maintains his land in a way I have never before seen… Each little corner of his property is meticulously arranged, organized, and has its own little story that seems to add a special sense of mysticism to the Farm as a whole. There is a patch of woods at the front of their property that looks like something out of a movie… Trees rise toward the heavens perfectly perpendicular to the ground; wayward-growing flora know that they are not allowed in this area. Endearing wooden steps and bridges amble around a creek that dissects this part of the property. The forest floor looks like it is swept of fallen branches and needles on a daily basis. Ron tells me that many passersby mistake this part of their property for a park. They have had many unknowing trespassers, and wedding location requests in this part of their land. It is a beautiful space, and when the morning light breaks through the canopy and splays itself in complex natural patterns across the ground, you must pinch yourself to ensure that you are actually awake and not in a dream.
They have also "pimped" the Farm out for their kids in a number of ways; They've got Go-karts (much enjoyed by our group), a trampoline, a zip-line, and numerous wooded trails to hike, explore and go-kart through. The Farm is also home to a few animal friends, including 4 horses, 2 donkeys (both named Candy, and 2 of the friendliest animals I've ever met), some geese, and all of their dogs.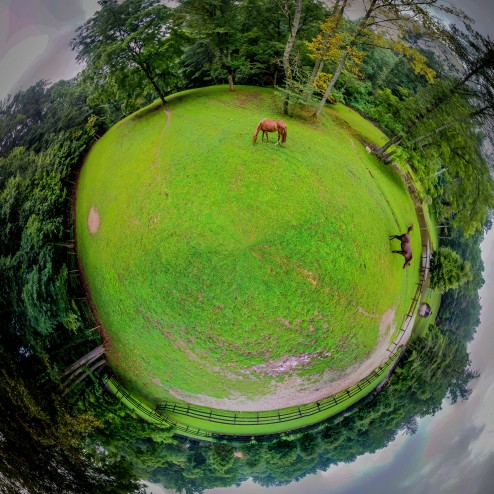 Hanging out with Ron and Pippa is great. One thing you can expect to be treated to if hanging out with Ron for an extended period of time is some great storytelling. I learned that the farm had originally been home to quite an interesting family. Early generation immigrants (I totally forgot how long the family had been in the US) had built this little farmhouse and raised 11 kids in a very small room of it. They must have been super short, because when I was shown an indicator of the original ceiling height I learned that I am taller than the ceilings once were. Apparently one of these 11 siblings was so mean that when he died at an early age from an accident, his sisters and brothers rejoiced! Ron and Pippa bought the farm from (what I believe) was one of the sisters in this family, now old and gray. She told them the story of the mean sibling, and that when they were children he would hide the other siblings' toys unretrievably between the walls, just to be mean. She asked in passing that if they find her miniature tea set, they return it to her. Ron and Pippa restored and improved the house by hand (it is, I must say, a fabulous restoration, looks very cute and original still), and while sheet-rocking the once-hollow walls, they found a super small metal teacup, which they wrapped up nicely and gave to the woman. What a redeeming manner to end this Smokey Mountain story.
There was a total of 11 or 12 of us students, and the trip lasted a little over a week. Our motley crue was led by the fearless Capt. Ginny Dixon, Director of Photography and General Bad-Ass-itude here at the School. The crew itself was a handpicked collection of only the most suitably dope Art Directors to be found on Miami Beach. Probably the coolest part of this whole trip was a transition to finally feeling like close friends with all of these awesome, talented people. There really is nothing like being in a relatively remote situation, ripping around to myriad beautiful places in a big white van with a bunch of like-minded folks to create a feeling of unity and solidarity. This trip in its very nature was like one long team-building experience without feeling forced or artificial in anyway… It was like a little bonus perk on top of an already-huge pile of awesomeness.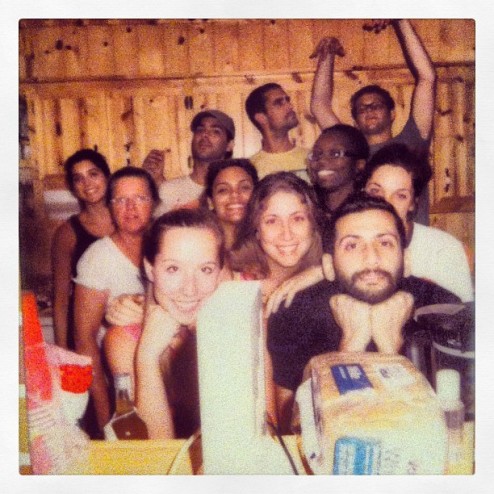 The trip consisted generally of 4 or 5 archetypal activities: Sleeping, Eating, Adventuring, Working, Chilling. An average day at the farm would start with a group waking up in the 6AM hour to join our Brave Captain on a morning jaunt to capture the beautiful early mountain light in various spots and vantages. These morning trips tended to be some of the most fulfilling… There is something special about absorbing this much natural beauty as you slowly wake up and re-enter the real world from a half-dormant, dreamlike state. After the morning trip, we would usually return to the Farm to eat lunch and collect those who chose to sleep in that day for an afternoon jaunt. Back we would go into the van, bouncing down War-woman Road to greet our next adventure face-to-face. Late in the afternoon we would head back to the Farm once again to make dinner and chip away at the growing mountain of work that was our only tangible link back to our real lives in Miami. Around this time, a self-proclaimed dinner crew would make dinner for the group as a whole; a selfless act that I held in the highest regard. We would feast on some of the best Guacamole (Alli's secret recipe; which many have lost their lives trying to obtain) and Tortilla-clad wonderments (Marina's grillin' skills were instrumental in this process) that man-kind has had the pleasure of savoring. After and during our feasts, we would collect around the ever-burning hookah, and enjoy Bilals' fine Menthol-Rose mix sheesh. We would work for as long as possible in this revolving din of early-evening chatter until we would close our laptops for good and enjoy lively conversations over brewed refreshments, and on the more interesting nights, good ol' Georgia Moonshine. Eventually we would be off to bed, trying our best to secure as many hours of sleep as possible before the next day's early morning adventure. Below are some of my photo highlights from the trip, and accompanying anecdotes.
We enjoyed a quick stop in Madison, Georgia on our way up to Clayton, where the farm is. It is a pristine little town that gives you a sense that time has moved slower than normal in its geographical vicinity. There was a plethora of great Antebellum architecture and houses, some of which can be seen in the full gallery at the end of this post.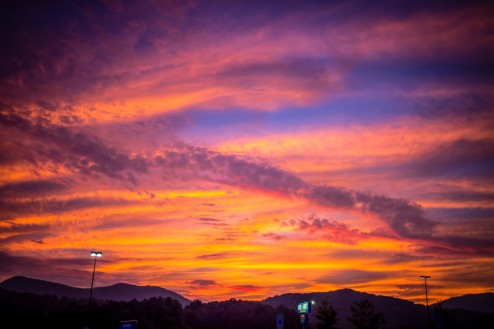 This was the first Smokey Mountain Sunset that greeted us in the Clayton, GA Walmart parking lot as we gathered rations before heading up the hillside to the Farm for the first time.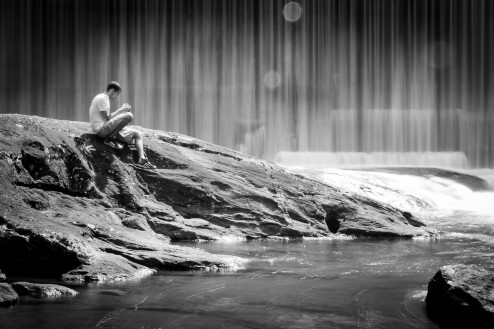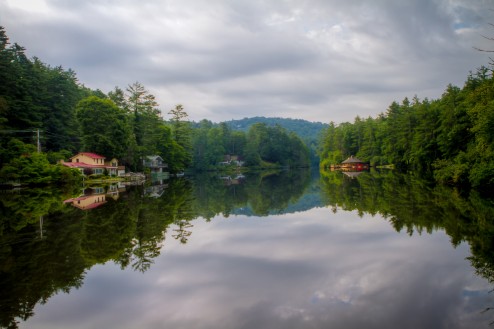 The above two photographs were taken at Mirror Lake, NC. It is a small lake with remarkably glassy water; an obvious precursor to its namesake. At one end of the lake there is a controlled waterfall outlet that made for some really great photo ops as well.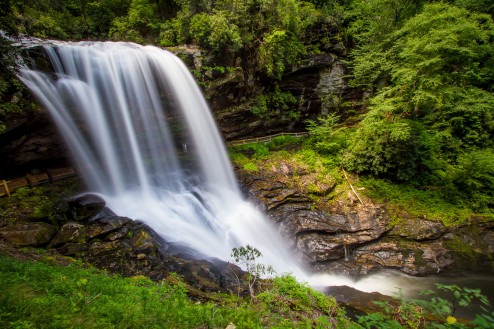 Waterfalls were a popular adventure destination on this trip. This one is called Dry Falls, and was definitely one of the most magnificent… I believe a scene in the film "Last of the Mohicans" was filmed at this location. Definitely a photogenic spot!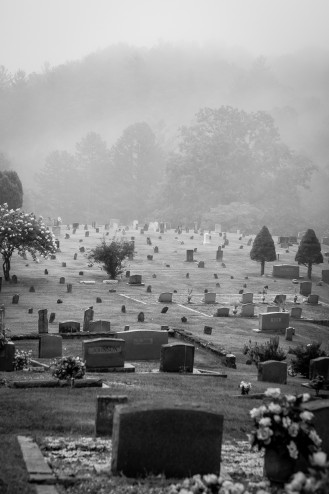 This is a good example of the early morning missions that we bravely endured over the course of the trip. This is a graveyard near the Seichrist Farm, and was a popular spot to go check how the light was going to be each morning. It made for a very spooky scene before the light shone through and when the morning fog was abundant.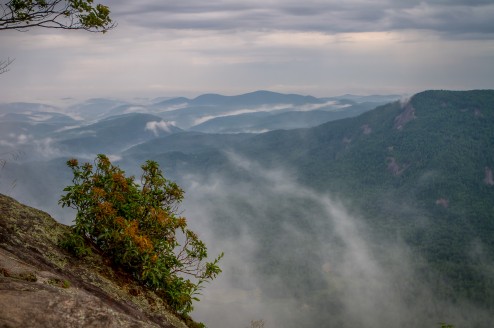 This one might have been the unanimous best morning outing. Ginny took us to Whiteface Mountain (I believe in NC) and just told us, "Go up, you'll see". We embarked on what turned out to be about a 25 minute uphill hike and were greatly rewarded with some of the best views of the trip. This morning had a particular feeling of euphoria and grouplove as we gazed over the rolling, misty topography of the Great Smokies.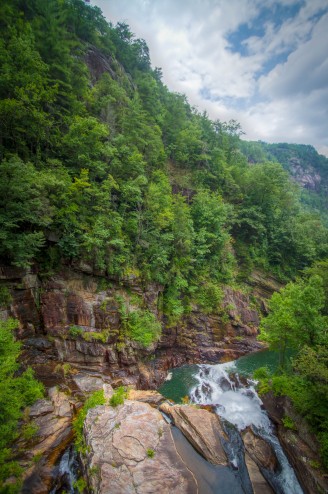 Hahahaha, this one makes me giggle inside. This is Talulah Gorge in Georgia. The overlooks are vastly beautiful as you hike inward toward the bottom of the gorge on manmade steps, bridges and viewing platforms. We learned the hard way that if you're going to go in, you're eventually going to have to pull yourself out of the hole as well. We ended up climbing up and down over 700 stairs each way… It was fairly strenuous but our legs and butts were looking great afterwards.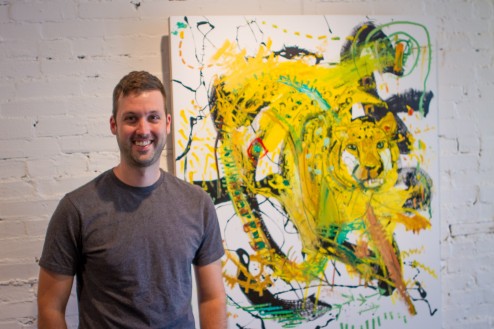 A visit to Asheville, NC. was definitely a highlight of the trip as a whole. I had been to Asheville before, and absolutely love the town for its unique brand of Southern-Funky flavor. We walked around the River-Art district and also downtown. On a whim I walked into a very attractive gallery space and met Daniel McClendon, a Michigan native who had recently relocated to Asheville. He was a really awesome guy, and the art was right up my alley. He is a couple years into a stream-of-consciousness series of animal paintings that were really rad! Nice to meet you Dan! In downtown we ate at an awesome Indian buffet, and then attempted to walk the food coma off. I put up some stickers, listened to street musicians and frolicked in general until it was time to head back to Georgia.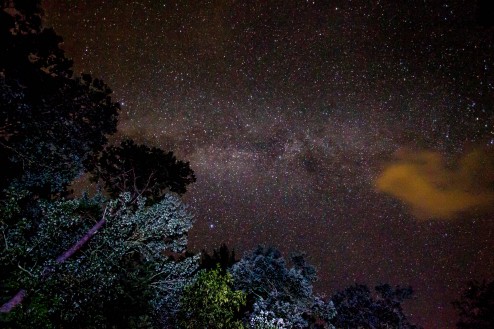 Ahhhhh. The Milky Way. One of the things that I was most excitedly anticipating on this trip was the opportunity to take some star photographs and time-lapses away from urban light pollution. The first few nights we were up there were pretty cloudy, but towards the end of the trip we had some great visibility! My first attempt was made when I snuck away alone one night and headed down to the pasture for some open sky. I took a few frames but honestly spooked myself out being out there alone in the pitch black. A few nights later I tried it out in the driveway as everyone reveled around the hookah. Finally I had some good frames of the milky Way! A few soon followed suit and all of a sudden we had an all-out night photography workshop going. I am excited for another chance to get some more star photos hopefully in the near future!
This trip to the Seichrist Farm kind of felt like it saved my life. I had been drowning in work and rubbed raw by some of the more abrasive aspects of living in Miami Beach. I knew that an injection of fresh mountain air was exactly what I needed for a reset, and I couldn't have been more right. During and after the trip I felt a new sense of invigoration, and further solidified the importance of periodical nature jaunts to my sanity and general well-being. I want to extend the most sincere thank you to Ron and Pippa for allowing us to come and enjoy the life they have built in the Blue Ridge Mountains of Georgia. That was truly a wonderful excursion that I will remember for the rest of my life! Please enjoy the full image gallery of my picks from the trip below!