I count myself lucky to have retained a close group of old friends from high school and earlier. Somehow over the chasm of time, and despite our roads diverging gradually, our enjoyment of one another's company has not wavered. When we get together in our adult lives the group dynamics of old whir back up dependably. Our friendship is like a classic car that springs to life reliably with the turn of a key. It sputters back into action with a sound that cannot hide its many years on the road or the loyalty that has seeped its way into the upholstery, never to be scrubbed out.
A majority of the group have continued adult life or eventually returned to the city where we spent our youth; Chicago, Illinois. After coming to school in New Orleans and remaining more or less to this day, I haven't been able to spend as much face-time with my oldest friends as I admittedly would like. For this reason, when rumblings of trying to organize some form of reunion trip began on the group email thread, I was quickly determined to participate in whatever gut-busting misadventure this thing was likely to turn into. Prospective itineraries were proposed and mulled over collectively. Eventually, due to the professional-level moving, shaking and planning work of my friend Nate, A Glacier National Park back country trip in August of 2017 became firmly established as our scheme. As we continued trading emails back and forth, life, work and obligations of all kinds slowly whittled our group down to a streamlined cohort of 6 that was ready to do whatever it took to make the trip happen. Through this process I glimpsed once again an eternal verity of life; There will rarely be a perfect time for extracurricular adventures like this one, especially since many of us must view our lives through a lens of 10 or 15 vacation days per year. As I move forward, I will consider the success of this trip an appealing case for throwing opportunity cost to the wind, and just going for it. If it's important to you and you decide you're going to make it happen, things will fall into place and work out pretty much no matter what.
Before I knew it, months had passed and our departure date materialized into reality; no longer an abstract set of text on a screen too far away to be palpable. Gear for the trip had slowly been accumulating in a corner of my room, and all of a sudden the pile seemed to shimmer with a new life. Tents, sleeping bags, cooking ware and other inanimate accoutrements were primed to serve their true purpose as liaisons for good times and memories too potent to forget. Soon, after a couple of plane rides and an exciting rental-car-drive through pitch black Montana high country, I was approaching the mouth of this grand adventure. I finally converged with the group at a motel on the eastern side of Glacier National Park. The room was alight with the excited electricity of potential and all of the sights and smells one can expect when 6 dude friends collide in a room the size of a glorified closet. The ensuing week was one of the most memorable and all around rewarding jaunts I've had the pleasure of experiencing. After a couple of days warming up to our new environs, we embarked on a 37 mile-or-so back country hike over the course of 3 nights and 4 days. Our route is outlined on the map below, beginning near the bottom of the image at Two Medicine campground, and terminating up toward the top at the town of St. Mary. 6 images and some words follow; hopefully they'll render a decent cross-section and tone of this awesome trip.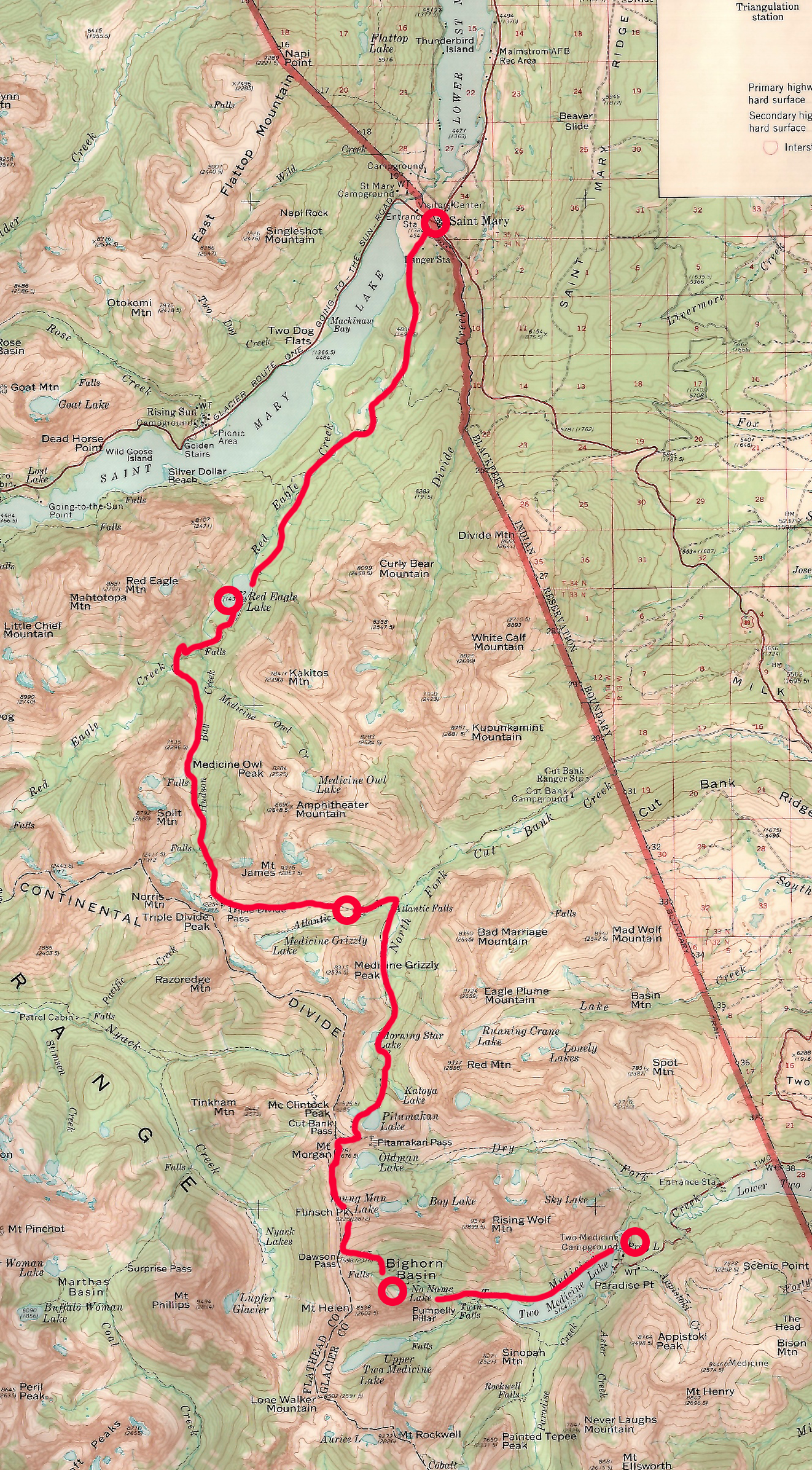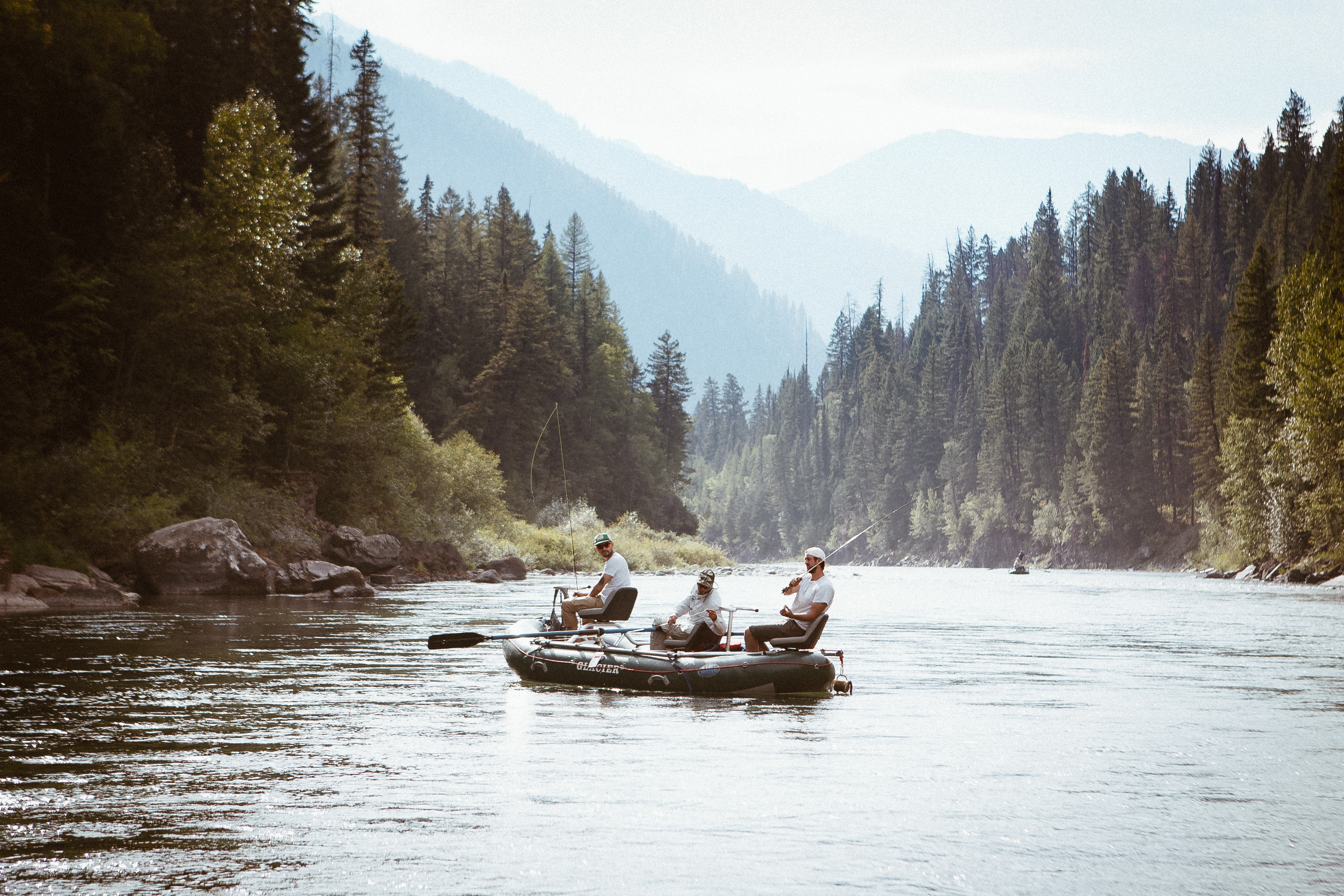 #1: Fishing Jaunt on the Flathead River
One member of the Glacier Group, Colter, is an avid fly fisher. I enjoyed seeing this region through his eyes; each glacial lake or babbling brook made of pure, liquid opportunity. Brandishing his mighty fly rod, Colter took each chance he got to conquer the waters we encountered and trawl a variety of the regions scaly offerings. To the groups benefit, he took it upon himself to research and plan a daylong guided fishing trip on the nearby Flathead River before we embarked on our back country trek. A local outfitter called Glacier Raft Co. took us out for a day on the river and I must say it was a great experience. Beers on the bus, BNSF grain trains snarling by us on elevated trestles and non-stop laughs were highlights for me. The guides were patient teachers and ensured that everyone got the hang of casting fairly quickly. Once we had learned how to put the lure (generally) where we wanted it, we all began to consistently pull cutthroat trout out of dark blue eddies and slipstreams. By the end we had caught and released dozens of fish, and drank at least as many refreshing river beers. This part of the trip was a pleasant surprise for me. I would't call myself an avid angler but I can't recommend this particular trip and outfitter enough.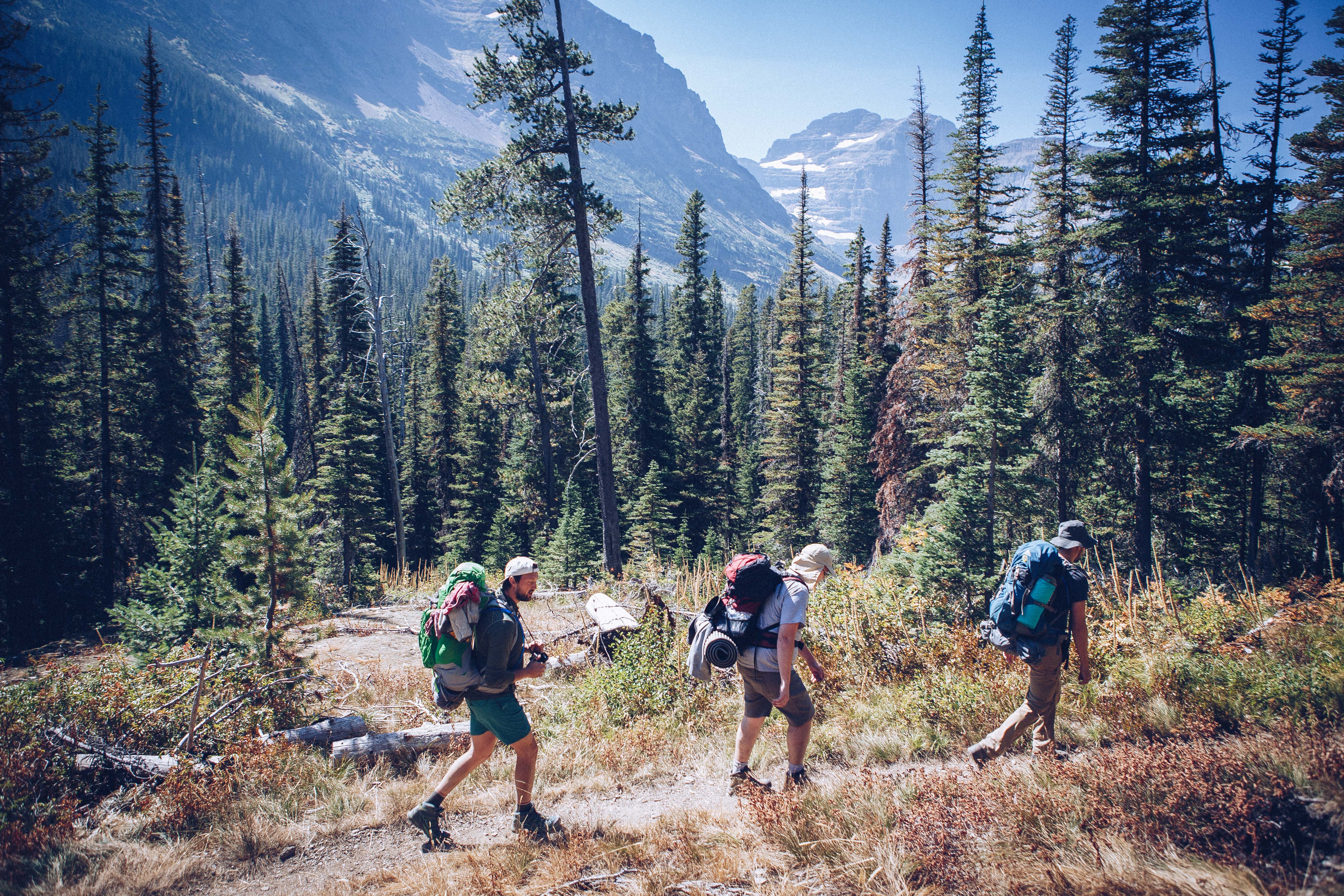 #2: Setting off from Two Medicine
After a couple of days getting to know the lay of the land with the help of our oversized Suburban SUV – the six of us and our gear testing its carry capacity – it was finally time to set off on the main event; our back country trek. More giddy than a group of 30 year old men probably should be, we set out from Two Medicine Campground, heavy with 4 days of food and supplies. Our first day was an easy one: 6 miles to No Name Lake without too much elevation change. Getting used to our packs and the rhythm of the group, we savored our first tastes of the backcountry vistas this part of the park had to offer. Timeless looking mountains rose and fell in an imperceptible dance around impossibly blue lakes. The mid-day sun draped the water's surface in diamonds as it glimpsed itself in its perpetually shifting reflection. As an unexpected bonus, we had serendipitously planned the start of this hike on the same day as the Great American Eclipse. Armed with our eclipse viewing glasses we periodically stopped to check in on the sun as it wasted away into a thin crescent at the hands of the passing moon. The shadows around us mirrored this change as they respectfully metamorphosed into clusters of sickle shapes in solidarity with the star that gives them life. A collection of sights, sounds and smells from this first leg still cling to the back of my head. Plenty of unusual stimuli foreign to my daily routine made this first day of our adventure a very memorable one.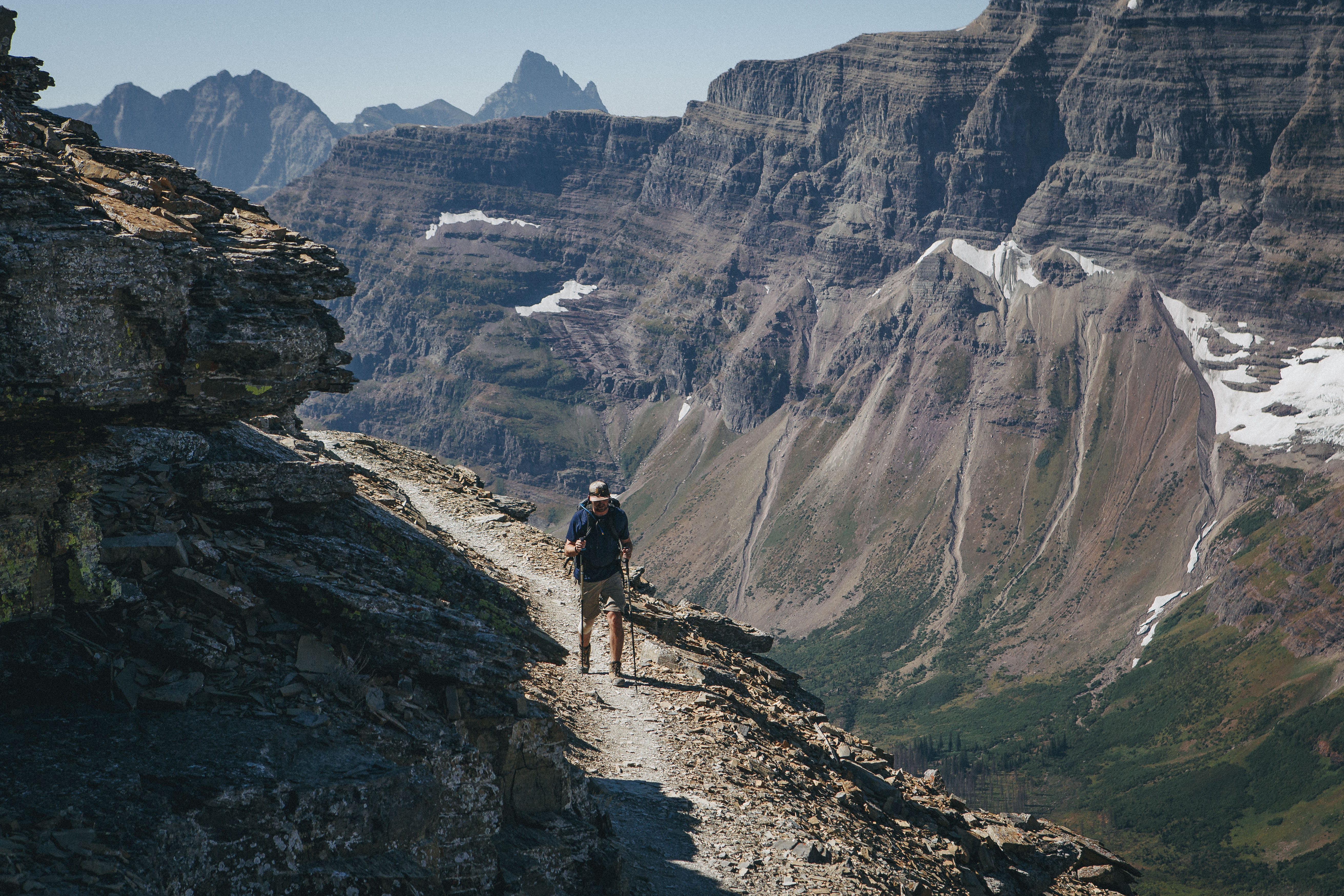 #3: Dawson Pass to Pitamakin Pass
The next morning monolithic rock walls bathed in orange sunlight watched over us as we packed up camp and set off. The rising sun provided a beautiful kind of light that seemed to fill up the air around us like a gas or fog. Ahead of us lie the first serious elevation gain of the trip; a steep scramble up to Dawson pass where we would then hike along a ridge and descend at Pitamakin Pass. I found it helpful to try to enter a pseudo-meditative state to bring my focus away from the physical exertion of making this climb. By way of fate I discovered that I had at some point previously downloaded a playlist on my phone filled with songs I loved and hadn't heard in some time. I definitely have that small blessing to thank for helping me conquer the relentless switchbacks of this first ascent. When we reached the pass we were rewarded handsomely with awe-inspiring views; jagged mountain landscape sprawling in panorama at a mind-boggling scale.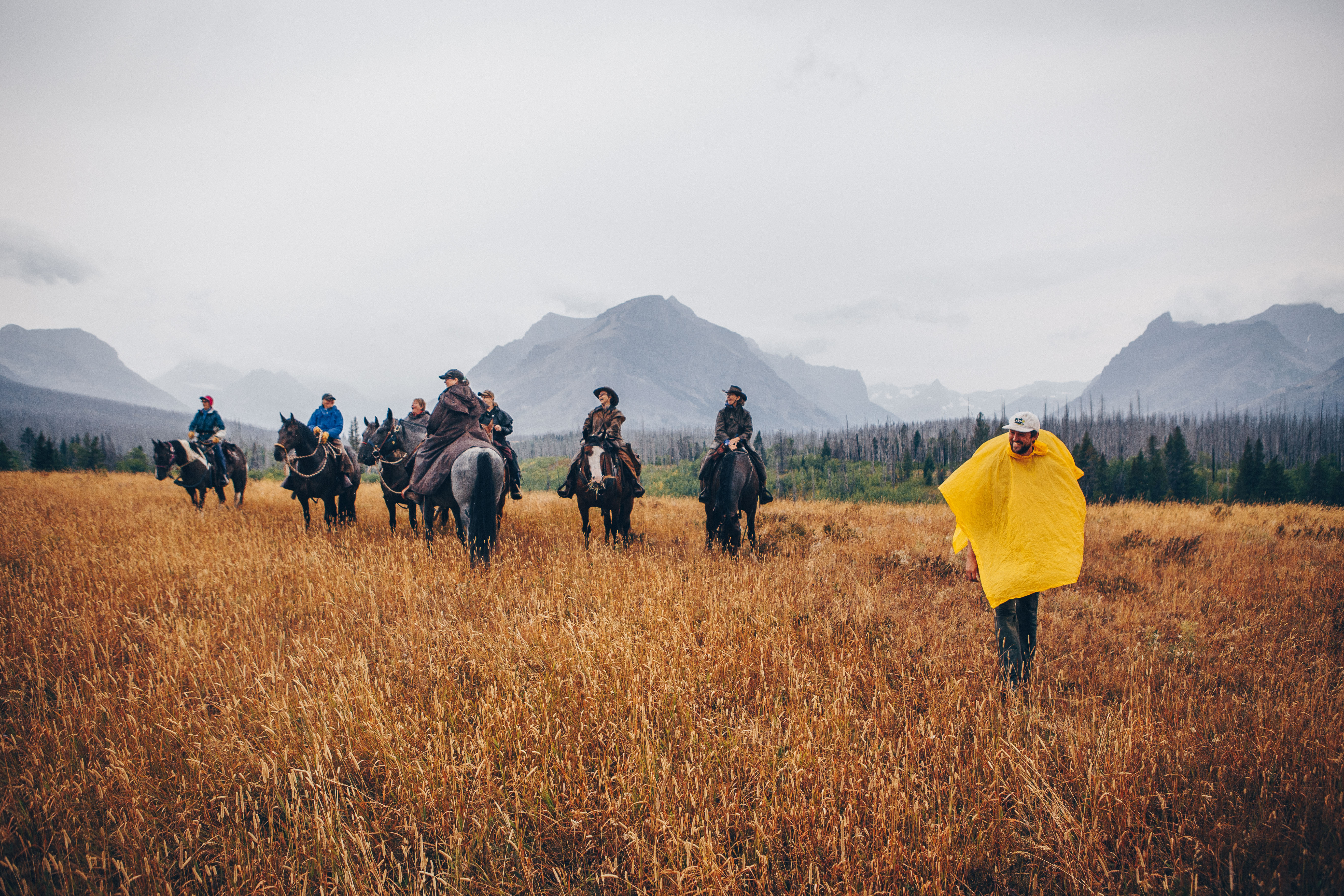 #4: Riders in the Rain
On our last day of the back country hike we found ourselves departing Red Eagle Lake in the direction of our terminus, the town of St. Mary. Our final leg wasn't a major undertaking compared to our previous 2 days which had both topped out over 10 miles with lots of climbing. At this point in the journey I think we had all forgotten what it felt like to walk on blister-less feet. Memories of civilization and routine seemed to fade exponentially as we got used to lives filled with simple needs and the absence of the usual comforts. The remaining glimmer of society as we knew it, specifically the availability of beer and hot food, was pulling our exhausted bodies forward one foot at a time. As if on cue, our previous luck with perfect weather the entire duration of our trip dissipated, and the skies opened up to yield moderate but consistent rainfall. Comfort had become such a distant need so we took the precipitation in stride and continued at a constant pace. After some time we were so close to the end that I could practically taste the hops of that first beer on the tip of my tongue. All of a sudden a large, wriggling dark brown blob appeared on the crest of a hill and slowly apparated into the shapes of a group of horses and their riders. My weary eyes and mind almost registered this sudden sign of civilization, of other people, as a mirage. The unexpected beauty of these horses and their female riders, geared up and clad in proper rain and riding gear, elated us in a way that is difficult to describe. We exchanged light pleasantries and photographs before embarking in our opposite directions, and before we knew it they were gone and we were walking again. It struck me how seamlessly they seemed to fit in with the environment, with the current moment; as if their collective lives consisted of nothing but intercepting dog-tired hikers on that one hill in East Glacier National Park.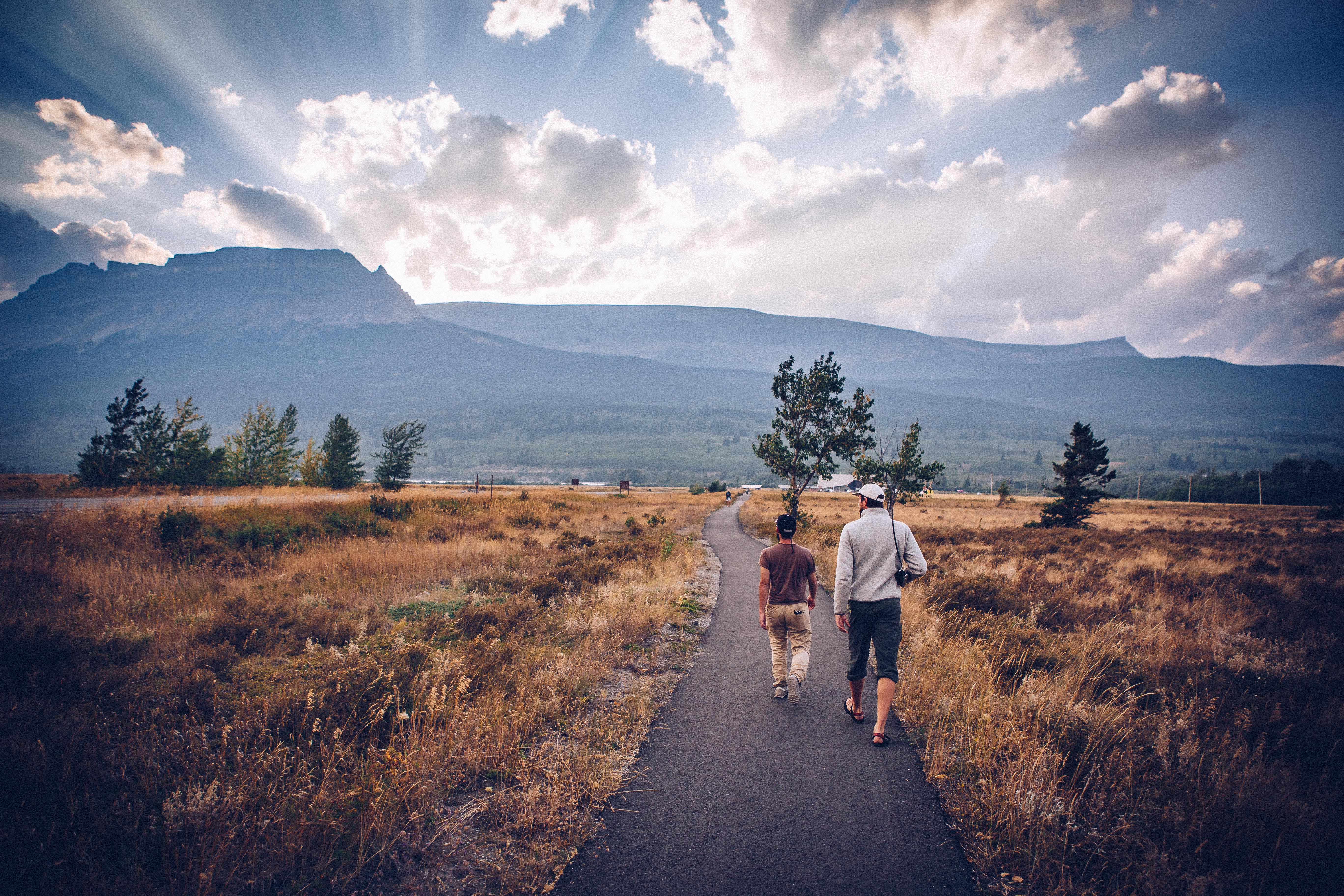 #5: Out of the Back Country
We emerged from the back country in the afternoon of the fourth day of our journey. Tired, relieved and famished; we posted up at the town lodge and enjoyed some simple restaurant fare that at the time was the best meal I'd ever had. Forgoing the option of camping in the nearby St. Mary's Campground, which was the original plan, we decided to book a room in the lodge to afford ourselves a little bit of opulence after our big walk. The feeling of slipping on my sandals after 4 days of cramming my feet in hiking boots felt like the greatest luxury a man could enjoy. Walking around without my backpack on felt akin to pleasantly floating a few inches off the ground. We enjoyed our reintroduction to a semblance of comfort by enjoying the beautiful views surrounding us. A fabulous sunset was sending rays soaring over the tops of nearby peaks as we celebrated the end of our walk with, well… More walking.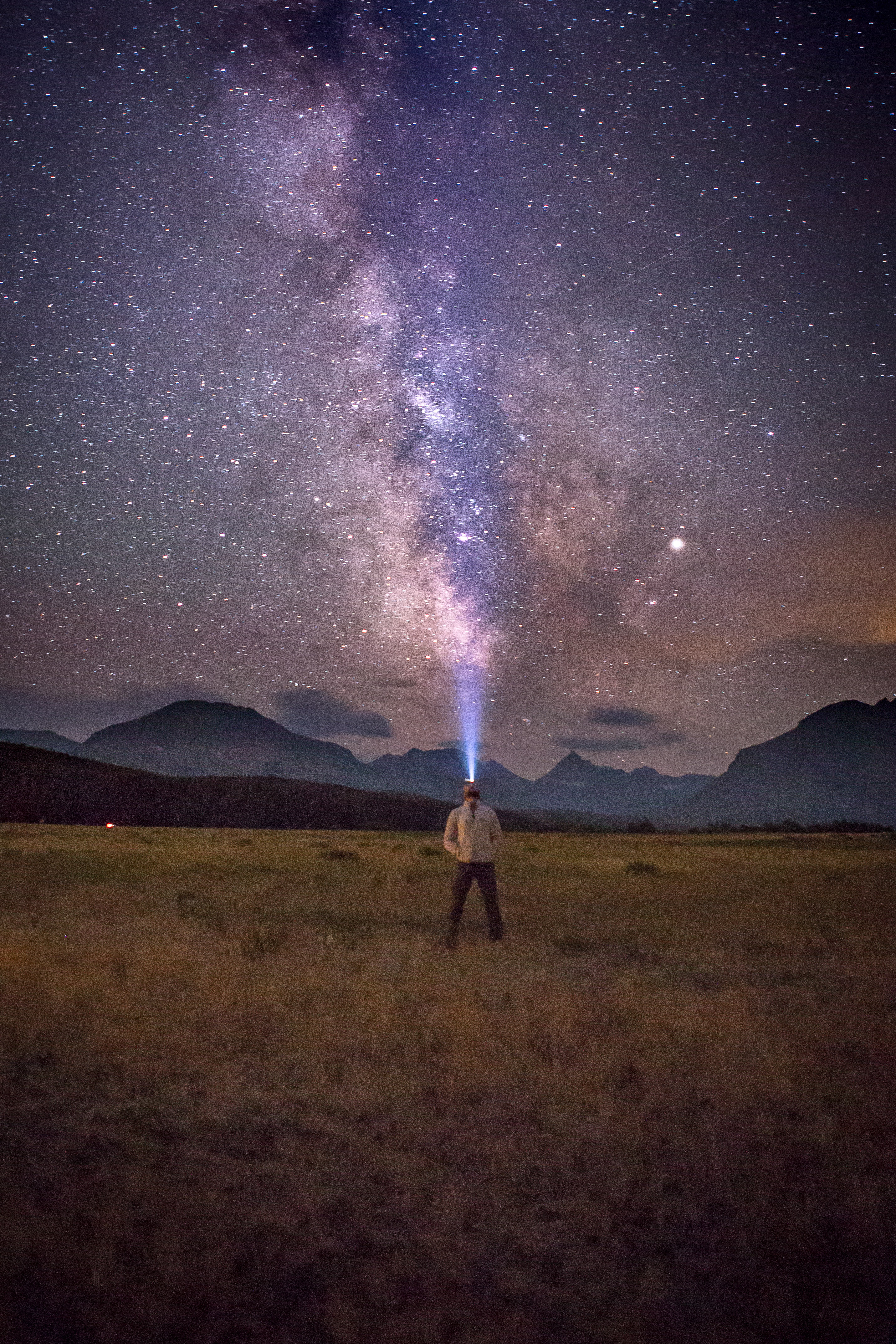 #6: Nate and the Milky Way
For the majority of our trip, our desire for a solid stargazing session had been spoiled by exhaustion. Some nights we simply couldn't see the stars and others we were fast asleep before they really became visible. My buddy Nate and I weren't going to let our last chance to glimpse the heavens in this remote area slip through our fingers, so we ambled out to a field near the lodge despite a bit of cloud cover. As we were walking that direction, what I initially perceived to be a cloud revealed itself to be the brightest Milky Way I had ever seen in person. Nate and I spent a good half hour taking photos and sharing the sight. I couldn't have asked for a better finale for one of the greatest weeks of my life than the celestial eyeful we were given that night.
For more photos from this adventure, check out the album on my Flickr